This is a healthy paleo recipe made by using a new delicious cooked clam sauce and spiraled squash. The right clam sauce can make a world of difference in your clam dish and of course the quality of your clams are just as important.
So, what about these little tasty morsels? Clam digging is a very exciting experience. Some clams have a lifecycle of only a year whereas others have been discovered as old as 500. There are different rules for clam digging in different areas. How many you can keep, how big they have to be, etc. Once you learn a bit about the craft and skills you can start to select the ones that fit your taste buds. I personally like small and sweet, like the Littleneck clams. There are two main types of clam: hard-shell and soft-shell. Hard-shell clams generally live in deeper waters, whereas the soft-shell reside in tide flats. Soft-shell clams are generally not eaten raw. Be careful if you have a compromised immune or digestive system with eating anything raw.
Really folks, healthy paleo recipes can be quick and easy which can be seen when following this recipe. You do not need to be a pro to make a great dinner loaded with protein. This recipe was contributed by Chelsea Cohen of SpiraLife. She loves coming up with healthy recipes using her spiralizer! YOU can make this dish with other seafood choices. For a sweet ending to your meal, make my delicious butterscotch ice cream recipe. Have fun and enjoy!
Don't forget to check out my latest PaleOmazing giveaway happening right now. I hope you win!
Print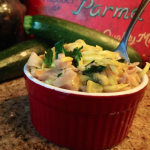 ---
Description
Healthy paleo recipes can be quick and easy which can be seen when following this recipe. You do not need to be a pro to make a great dinner loaded with protein.
---
4

yellow squash, spiraled

¼ cup

olive oil

3

garlic cloves, smashed

¼ cup

dry white wine

2

cans chopped clams or 3 to 4 dozen fresh clams (directions for using fresh clams are in the notes section below)

1/8

–

¼

teaspoon red pepper flakes
Freshly ground pepper to taste

¼ cup

chopped flat-leaf parsley
Optional: if using fresh clams, ½ cup clam juice will be needed
---
Instructions
Heat olive oil over medium heat.
Add garlic and sauté until golden and fragrant.
Drain the clam juice from one can of clams.
Add clams to skillet.
Add second can of clams with their juice.
Add wine, red pepper flakes and freshly ground pepper.
Reduce heat and simmer sauce until thickened, reducing by about half, about 5-6 minutes.
Remove from heat.
Toss squash and parsley in sauce to warm and serve immediately.
Enjoy!
---
Notes
You can also make this recipe with FRESH Clams. Be sure to clean your clams before adding them to your dish as they may contain sand, which could get into your dish.
At step 3, add fresh clams and your ½ cup water or clam juice.
At step 5, cover your pan and boil over medium heat, allowing the clams to cook until open. Discard any that do not open. Remove half of the clams from their shells and toss their shells.
Before step 6, remove the clams in their shells from the pan before tossing the squash and parsley.
After step 6, place the clams in their shells on top of the dish when serving for a nice presentation.
Enjoy!
If you have any questions or suggestions just email me at Tina (at) Paleomazing.com.