I just love duck and the crispier the better. I love the skin and everything about duck. It is really quite easy to prepare this paleo roasted duck and requires far less "spicing up" than chicken, which I find is quite bland by itself. Have you ever tried chicken with absolutely nothing on it at all? Bland beyond bland!
Duck makes for great leftovers and most people like it cooked rare, except the person writing this. The more cooked the better to me. I just love to cut it after its done roasting and place it back in some duck fat in the skillet and give it a bit more searing and crisping up the sides. Yum!
Served with a fresh green salad and my Paleo Dressing with Dijon Balsamic is about all you need and if you are in the mood to add a starch I can suggest my Paleo Stuffing specifically for duck!
My roasted duck recipe is really a terrific home cooked meal or can even be served as an elegant party meal. I like to serve it with red wine to accompany the fattiness of the duck. Wine gives it some acidity, which helps with one's digestion. As most of us know duck is usually served with a fruity side, sauce or topping like cherries or plums. I can suggest Bordeaux, Merlot or a Pinot Noir as they will do wonders for your table. I do not drink most of the time as one glass and I am snockered unfortunately, so I have my substitutes like my Raspberry Mojitos.
Have fun and as always ask me any questions you may have.
And don't forget to visit my eBooks page and my Giveaway page to find out what new things I have going on! I would love for you to win one of my gifts I'm giving out!
Print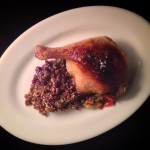 ---
Description
This is an incredibly rewarding recipe and one I like to make any given night, let alone a holiday. Some people think of duck as a specialty, so it seems to be served less often at the home table. Duck has a flavor of itself and I prefer to allow that flavor to shine. This goes perfect with my Paleo Stuffing!
---
4

duck breasts or 4 duck leg quarters (leg and thigh) – boneless is optimum but not at all necessary

1 tablespoon

grass-fed butter or Ghee

1 tablespoon

coconut oil
Salt and pepper to taste
NOTE: If you are serving just two people, cut the ingredients in half if you do not want leftovers
---
Instructions
Preheat the oven to 300°F.
Melt the fats in a large skillet over high heat.
Place cleaned and dried duck in the skillet.
Allow to "sizzle" in the fats to achieve a dark brown color.
Lower the heat so as not to allow the fats to splatter all over. Add some salt and pepper. This will cook for approximately 6 minutes.
Turn the duck over and do the same with the other side. Add some salt and pepper. This will cook for approximately around 6 minutes.
You will notice a lot of fat accumulating in the skillet. This is exactly what should happen.
Once both sides are dark brown place the pieces upright in a Pyrex dish.
Leave the fat in the skillet for NOTE below or save for my Paleo Stuffing, or save for future use.
Place the duck in the oven and gauge doneness by internal temperature.
Your duck will be very rare at 120°F, rare-medium at 125°F and if you are like me go even a tad higher at 135°F.
Take your duck out to sit untouched for 5 minutes with foil on top to keep warm.
Cut or place on plates and serve.
Enjoy!
---
Notes
I will often take my duck slices and sear them again quickly in the hot duck fat to get the crispy texture and flavor I adore.
If you have any questions or suggestions just email me at Tina (at) Paleomazing.com.