I really enjoyed making these little paleo coconut raspberry pots, "custards", or as they are called in french: "pots de cocos aux framboises". I slightly altered this recipe. I made it two ways: I followed Chef Alain's recipe yet I did not use sweetened shredded coconut as recommended. I used unsweetened and it tasted fine. I also made the same recipe yet I omitted the shredded coconut all together. I ran a test among many paleo and gluten-free individuals and most preferred the custard without the texture of the coconut yet many others loved the shredded coconut and said they would not want it any sweeter.
Now remember I said I did not use sweetened coconut per Chef Alain's recipe. Unsweetened coconut is a bit dryer and definitely not as sweet. Sweetened coconut is loaded with sugar and I just do not like to cook or bake with it. Most testers said that they do not like shredded coconut in custards and prefer clean smooth custards, like flan and crème brûlée. Maybe their familiarity was interfering with the replies?  I will leave it up to you, but Chef Alain's recipe is a wonderful recipe and really fun to play with if you like cooking and baking.
These delicious pots were served soon after his paleo grilled zucchini hummus and shortly after his apricot basil-pesto chicken were eaten with delight and pure satisfaction. All three recipes are quick and easy for anyone to prepare and enjoy.
Chef Alain Braux shares, "Raspberries offer you vitamin C, manganese, fiber and vitamin K. Coconut is loaded with medium chain fatty acids. Besides these health benefits, I love the flavor combination of coconut and raspberries. I hope you do too."
Print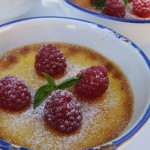 Paleo Coconut Raspberry Pots – Pots de Cocos aux Framboises
Author:

Prep Time:

15 mins

Cook Time:

20 mins

Total Time:

35 mins

Yield:

6

1

x

Category:

Paleo Dessert

Cuisine:

French
---
Description
These delicious raspberry custards in ramekins are so easy to make! This recipe also comes with the option to remove the coconut if you have allergies or do not like coconut itself. Just follow the same recipe and simply remove the coconut.
---
1

lb coconut milk (

1 pint

)

2 oz

shredded coconut, unsweetened

1

pinch sea salt

1 teaspoon

vanilla extract

4 oz

local honey (

1/2 cup

)

6 oz

eggs (approx

3

eggs total), beaten

1 pint

fresh raspberries (

6 oz

)
---
Instructions
Preheat your oven to 350F.
Weigh/measure the coconut milk, shredded coconut, salt and vanilla and combine in a saucepan. Bring to a boil.
In a separate bowl, whisk the eggs and honey until light and smooth.
When the liquid boils, add a little of it to the eggs/honey mixture while whisking. Add a little more and then more again until all the liquid is absorbed by the eggs/honey.
Place 3 to 4 fresh raspberries at the bottom of each ramekin.
Pour the batter into ramekins placed in a baking dish.
Place the dish on the middle rack of your oven.
Pour hot water halfway up the ramekins' sides.
Bake for about 20-30 minutes until they feel firm to the touch and not wiggly at the centers.
Cool down. Refrigerate until needed.
Decorate with a couple of fresh raspberries and a fresh mint leaf.
Enjoy!
---
Notes
Chef's tip 1: If raspberries are out of season, please use flash-frozen organic raspberries for the filling, and use sauce only for the top.
Chef's Tip 2: To make it even fancier, serve this dessert with a raspberry coulis (sauce): 1 pint fresh raspberries, 2 oz local honey, 1/2 lemon juice. Blend all together. Strain and spoon on top of each ramekin before you place the fresh raspberries and mint on top.
If you have any questions or suggestions just email me at Tina (at) Paleomazing.com.