Some paleo recipes are just pure fun to me as they save me loads of money; so I sit and chuckle to myself at how I can create this paleo dairy-free kefir in my own kitchen and not pay $8 for a quart of someone else's from a store. This healthy paleo drink is fresh, tasty, healthy—and saves me money!
I have many kefir and yogurt versions and "bases," but this one is made with coconut milk. Another recipe you may enjoy is my homemade dairy-free kefir almond milk recipe. You can sign up to receive all my paleo recipes easily on my Home page by subscribing to my RSS feed. Recipes and blog posts will come straight to your inbox.
I love to exercise (cross-training, weights, swimming, hiking, etc.), and this recipe keeps me loaded with probiotics, which keeps my immune system strong. Many do not know that the immune system is IN the small intestines. Can you imagine that? So keeping that area of your body well-balanced with GOOD bacteria is vital!
Being paleo (and I am also celiac), I still do not like to eat dairy. I cannot digest it well despite the occasional goat cheese I slip past my lips. I personally don't have any digestion issues with this recipe thank goodness!
Now here is the fun part: this little concoction can "cook" while I am off doing something besides slaving away in my kitchen. It's a time-saving recipe. Anything that allows me to multitask without stress is right up my alley.
I need to add that kids love this recipe, and it is such a great way to teach any child more about health, nutrition and even a bit about science. It is a very easy, hands-on recipe they can create alone, based on their age. Don't forget, fruit is a wonderful addition to mix into the kefir before they gobble it all up.  Have fun incorporating this into your paleo meals!
Be sure to tell me how you like the kefir after you try it out. Send me your photos or your own recipes through my Contact page or via my social sites below or on my home page on the right side. I love to share others' recipes too!
Print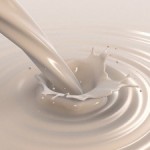 ---
Description
This is one of my most favorite paleo, gluten-free and dairy-free simple recipes.
---
2

cans of full fat coconut milk

3

capsules kefir starter or probiotics of your own (I use Harry's Custom 11-Strain Probiotics)

2

–

4

teaspoons organic honey to taste, or stevia if you prefer
OPTIONAL: fruit
---
Instructions
Use any size of clean mason jars; you may even use glass tupperware (never use plastic!). Plastic is not good for us; read up on xenoestrogens.
Refrigerate your coconut milk overnight.
Mix all ingredients together in a blender.
Pour into your jars right away.
Leave the lids off, and cover the jars with plastic wrap poked with holes to protect from any dust.
Keep in a warm space for about 3 days or in your dark toaster oven, microwave (not used) or oven.
Make sure the space is warm and not near any cool windows, open doors etc. I place mine in my dehydrator uncovered at 95-100F for 48 hours. You need that bacteria to grow and make your coconut milk into a healthy and tasteful probiotic drink.
Give it time and it will do great.
You can taste it and test the texture after about 2 days if you are using an oven to determine if it needs another day or not.
Place a lid on your kefir, and place in your refrigerator.
Let the kefir chill a good few hours.
Serve!
You can add fruit or mix the fruit with the kefir in a blender but it will thin out a bit again.
Enjoy!
---
If you have any questions or suggestions just email me at Tina (at) Paleomazing.com.