One day I was playing in the kitchen and I had an urge to come up with something that was not only quick and easy but something that was versatile with fruits. One that I could make with fresh or frozen or even dried fruit, such as my Paleo Healthy Dried Apricots. I did not want to be tied to ONE fruit. I wanted this recipe to bring many flavorful options, and so my paleo homemade berry mini bites were born!
Creating one paleo recipe that I can share that allows my readers to then adapt to whatever may be in their cupboard is indeed a winner. So here you go – my latest creation for you!
These Mini Bites can be made into a larger size if you wish. Just adjust your oven temperature and do not make them too dense, unless you prefer a moister middle. Also, try my Paleo Mini Bread or Scones with Dried Fruit and Pecans!
These mini bittes last forever and they taste better the next day! The flavors in grain-free baked goods just seem to do that. Lucky us! Just seal in an airtight container after COMPLETELY cooled. I am now sharing this with you, my friends, with the warmest of heart and my completely satisfied tummy.
Now don't forget to sign up for my Giveaways to win amazing gifts!
Print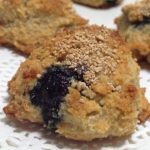 Paleo Homemade Berry Mini Bites
---
Description
These are incredible little treats, grain-free and very easy and quick to make. Everyone loves them on the go or as a dessert.
---
2 ½ cups

almond flour

2 tablespoons

tapioca flour, plus a little extra to toss with blueberries

1 tablespoon

coconut flour

2 tablespoons

maple sugar

½ teaspoon

salt

½ teaspoon

baking soda

1 ¼ cups

frozen blueberries*

2

egg whites

1 teaspoon

vanilla

⅓ cup

walnut oil (or nut oil of your choice)

⅓ cup

pourable honey

2 teaspoons

lemon juice
Coconut oil for greasing your pans
*I used fresh blueberries but the result is fabulous either way. With fresh blueberries, the scones are slightly moister during the following days. You can use any fruit: apricots, dates etc. – go wild!
---
Instructions
Preheat oven to 350F degrees.
Grease your cookie sheets.
In a 2 quart size bowl, mix the flours, sugar, salt and baking soda together.
Sift well.
In a 1 quart bowl, mix together the egg whites, vanilla, oil and honey.
With a hand mixer, whip this mixture on medium-high for about a minute.
Immediately pour your wet ingredients into your dry and stir to combine.
In a separate bowl, toss the blueberries with the "extra" tapioca flour until your blueberries are well coated.
Add the blueberries to the dough by folding them in over and over until fully incorporated, and at the same time add in the lemon juice.
To better handle the "dough", refrigerate for half an hour to firm up.
For mini snack-sized muffins, use a medium sized melon scooper or a teaspoon and place the shapes about 1 inch apart on parchment (they will not spread). You should have a ½ inch ball shape. Do not hand form into a nice tidy ball. Allow to remain rough edged.
Prepare an egg wash and brush over the scones.
For snack sized, bake for 6-8 minutes.
For biscuit sized, bake for 8-10 minutes.
Let cool for 1 minute then remove to drying rack.
Enjoy!
---
Notes
The snack sized muffins taste even better the next day.
The biscuit sized ones will be moist inside and slightly crisp outside–delicious!
Serve with grass-fed butter, coconut oil or plain. Better yet sprinkle with a touch of palm or maple sugar while warm. Yum.
Cover in a tightly sealed container, but do not cover for at least 10 hours.
If you have any questions or suggestions just email me at Tina (at) Paleomazing.com.