I know, you are thinking I am about to share another bar out there being sold to us that is loaded with sweeteners and carbs, and is once again misleading and calling itself Paleo or in this case, calling itself The Paleo Diet Bar. What if I told you I was going to do just the opposite?
Shauna and Todd Sledge are a husband and wife team and founded The Paleo Diet Bar for Paleo Braaap, LLC. They created a few other bars as part of their initial launch and soon after they meet up with Loren Cordain, author of The Paleo Diet to try something aligned with his book.
I have tried the two flavors available to the public, Cranberry Almond & Cinnamon Raisin. Pretty darn good! They are nutrient dense and I feel even more importantly, they are very "balanced in nutrients" which I feel is quite important for a bar being sold for athletes and using the name Paleo.
These bars are perfect for intense athletes. I am an avid hiker and most of the time I am out in the heat for many hours at a time, mid-day. During my last two longer hikes these bars were a perfect "break food", which I would eat only 1/3 to 1/2 of and keep on going. You'll notice I call these bars a food rather than a snack and that is due to the nutrients they satiated my body with. It is very smooth, tastes healthy, chewy and somewhat hearty, yet lightly sweet; as opposed to the standard grab and go quick carb snack. This was quite impressive to me as both an athlete and nutritionally inclined and aware foodie. The protein level is pretty comparable with the others out there.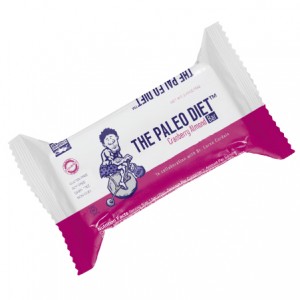 I personally feel the bars are best eaten with some water yet they have a chewy texture, and I do also feel they are better as a food bar more for athletes as opposed to a stay at home mom who may take a brisk walk now and then; or a guy sitting behind the desk who goes to the gym after work. In those scenarios and ones similar I feel these bars may be overkill. I also feel it is best for someone like that to grab a higher protein snack with some good fats like Halibut Ceviche or a couple Paleo Turkey Meatballs and keep the carbs lower than these bars, for someone less active as described above. This is just my personal opinion.
I prefer to keep my body mostly near or in fat burn over carb burn but the added "fuel" from these bars did indeed help on the intensity my body was demanding plus I am quite lean, have decent muscle tone and have a small frame. Hence my terrific excuse for a bar right?! The bars truly help me go and keep going and not drag or get the adrenal burnout one CAN get with the intense workout and the heat in the 90's or 100's I am known to hike in. I feel this is due to the well calculated research in the ingredients and again, the balance of the ingredients.
The founder Shauna said, "We were fortunate to meet and partner with Dr. Loren Cordain, the world's leading expert and founder of the Paleolithic movement to develop a gluten, soy, dairy, and preservative free nutrition bar. Six months in Research & Development and 500 pounds of raw material later The Paleo Diet Bar was born. Comprised of equal parts carbohydrates, proteins, and healthful fats we were able to create yet another unparalleled and delicious formula that stood by the science Dr. Cordain dedicated his life to researching to improve the lives of individuals all over the world."
I really feel the bars are great, and are an excellent supplement bar really worth checking out. Most definitely take one with you when you are looking to engage in a monstrous workout. It will keep you rolling along at an even keel and with that said, you can ultimately achieve the goals you are aiming for with those intense, steady workouts. Can't beat that, right?
Remember to visit my Giveaway page for the fun, free healthy gifts I give to my readers. Have fun!
If you have any questions or suggestions just email me at Tina (at) Paleomazing.com.