Yes, I adore anything healthy, gluten-free and paleo but when I found this Indian company's spices and sauces, I considered my hunt to have come to an end. The amazing Spicemode is just that, amazing. My time in the kitchen is freed up to create my meals and dishes without pulling out a ton of spices, plus the taste is truly divine and beyond my expectations. For me to eat the sauces by the spoonful says it all. These are rich, deep, bold and truly Indian at heart. These are truly the starting point for a meal to be packed with flavor, and the gluten-free and paleo meal possibilities are endless.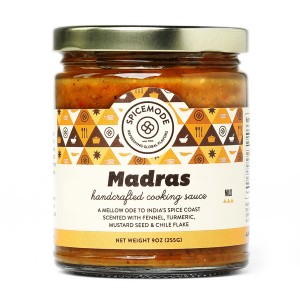 The amazing Spicemode founder, Amar Singh started out in the very popular Curry Cruiser truck in the heart of Chicago. Long story short, why not bring these very popular spices to our front doors. I am one to admit I am extremely happy he made this choice. He's created products that help give home cooks of all skill levels an approachable and easy way to experience flavorful ethnic food.
Amar likes fresh ingredients as much as we do, so each Spicemode product is made with real, fresh and whole ingredients. Their aromatics are locally sourced from Midwestern farms, freshly chopped in-house, and then made into the perfect base for only small-batch sauces and without preservatives.
Spicemode's artisanal production method takes time. They let the flavors "ripen" over time. Their recipes begin with sweetly-caramelized onions and a blend of freshly minced garlic, ginger and chiles. The mixtures cook slowly in kettles before finishing with a hand-tailored blend of spices and chili powders.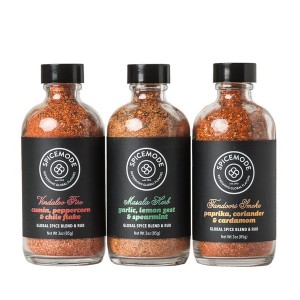 So what are my favorites? Oh jeez! The option to buy a three pack with the Vindaloo, Masala and Madras spices at such a good price is really an incredible deal, and the flavors are so bold that a little goes a long way. No complicated recipes are needed as the flavors enhance any dish. I am a little partial to the Vindaloo and Masala personally. Yes, those two I could not stop eating by the jar. It felt so healthy for my body!
The jars of the Seasoning Collection come in a pack I think I will buy next and probably purchase as gifts for friends too.
With all this said, I really cannot say enough about these products. My only suggestion is that if you are expecting your order quickly be sure that Amar has your order ready to go out the door, as the batches are handmade and he mentioned that sometimes (not often) the order may be delayed. You can email via his website or when placing your order. It is all extremely simple.
Enjoy – I sure did!
If you're into new and Omazing products like I am, be sure to also enter my latest PaleOmazing giveaway.
If you have any questions or suggestions just email me at Tina (at) Paleomazing.com.