Buff Butter – Bakery for the Fit is a Venice based company run by two healthy female cousins going crazy and having a blast making tasty treats (butters and muffins) with the use of nut butters.  Speaking of tasty treats, be sure to check out my latest giveaway for a chance to win an Omazing gift! I adhere to many of the basics of paleo so I purchased the Snickerdoodle Almond Butter, which was really delicious, and would make for a great addition to holiday baking. Most of their current products use peanut butter, which I do not eat nor do well with so I never tried those.
The Snickerdoodle Almond Butter was out-of-this-world delicious. It really tasted a bit like French toast meets Snickerdoodle. Can't beat that! I even made a banana sandwich and slathered in their butter. And warmed it slightly – OMG! One of my friends said this, "It tasted good! It is like sweet cinnamon almond butter, tasting more like I was having a sweet than just almond butter. It would be great on a toasted piece of bread. I really liked the flavor and think it would be such a nice treat just eating with a spoon. You don't need to put it on anything actually."
Each tablespoon of Snickerdoodle Almond Butter has 7 grams of protein and 3 ½ grams of carbs for anyone curious, as my plain almond butter has 3 ½ grams of protein and carbs. For some fun, spread this almond butter on my banana bread recipe.
With so many allergies and sensitivities these days, most people expect to read exactly what they are buying for their family, friend or child.  This company has a link sharing all product ingredients and this comes in very handy for many people. They do not list the ingredients in their Dark Chocolate Chips as far as we could find. If you have any severe allergies please call or email them first before purchasing.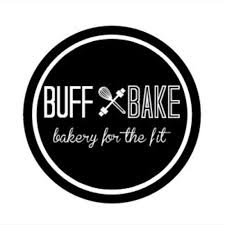 The company was founded by two cousins:
Ashley has a passion for clean, healthy living and eating. After years of exercising daily and participating in fitness competitions, she got this crazy idea to create easy pre and post workout foods that not only nourished her body and lived up to her high expectations of healthfulness and holistic living, but that were delicious too. Brittany had a life-long love affair with the kitchen and began baking for her family at a young age. Eventually she started craving foods that fed more than her waistline. She began crafting recipes that were less guilt-ridden and more nutrient-rich.
It was not long before these two cousins were cooking up a plan to collide healthy, strength and food and create Buff Butters. You can buy all their current products online at BuffBake.com.
NOTE: As of this date their nuts are not organic.
If you have any questions or suggestions just email me at Tina (at) Paleomazing.com.