This is another paleo and gluten-free recipe I developed using some of Sweet Spreads' delicious products. My latest cinna-bun spice muffins are terrific fresh out of the oven and even better the next day, like many paleo baked items are known to be. The photo alone makes my mouth salivate, but it tastes just as good in all honesty! Lots of flavors in this recipe collaborate in the baking to make a delicious and nutritious muffin. Definitely reminds me of the holidays which are fast approaching.
I love the many holiday flavors. Pumpkin, cinnamon, apple, nutmeg, OMG! Even the smell of their aromas take me to that "happy place". Being celiac has limited my ability to indulge in certain items which I used to crave, like Cinnabon (boo-hoo crying tears now as I type). Have you ever walked by the Cinnabon store in the mall right after they take them out of the oven? Oh wow! That is all I can say. This was my trial at fulfilling THAT very craving, no, that longing – and I think I did it!
These muffins are high in fiber if you are looking to add more of that to your diet. Hate to break it to you, but we can't live off of just steak and veggies! These muffins will add some other balancing ingredients to your diet and may even help you poop.
Enjoy! And check out some of my other delicious baked goods recipes for ideas for the holiday baking season!
Print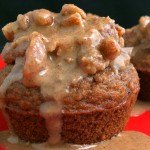 ---
Description
I love the many holiday flavors. Pumpkin, cinnamon, apple, nutmeg, OMG! Even the smell of their aromas take me to that "happy place". These muffins will satisfy that craving without all the sugar and gluten! Enjoy!
---
Muffins:

1 2/3 cup

almond flour

1 tablespoon

coconut flour

1/3 cup

tapioca flour

1 teaspoon

baking soda

2 teaspoons

baking powder

1 tablespoon

ground chia seeds

1 teaspoon

organic vanilla powder

¼ teaspoon

ground cloves, or more to taste

4

eggs

1 tablespoon

honey

1 teaspoon

liquid Madagascar vanilla

2 tablespoons

coconut oil (or ghee)

1 tablespoon

almond milk

2 tablespoons

Sweet Spreads Cinnamon Roll Coconutter

½ cup

plus 4 tablespoons applesauce

½ teaspoon

apple cider vinegar
Coconut oil for greasing pans
Topping:

8 tablespoons

Sweet Spreads Vanilla Cupcake Coconutter

8 tablespoons

Sweet Spreads Maple Pancake Coconutter

½ cup

semi chopped walnuts, or nuts of your choice
---
Instructions
Muffins:
Preheat oven to 350F.
Grease mini-muffin pans with coconut oil.
Combine all three flours, baking soda, baking powder, ground chia seeds, vanilla powder and cloves in a bowl. Mix well, sifting two times.
In another bowl mix the eggs, honey, vanilla, coconut oil, almond milk and Coconutter. Whip on medium then on high with a hand mixer.
Add in applesauce.
Mix in apple cider vinegar.
Scoop halfway full into well-greased muffin pans.
Bake for 12-16 minutes.
Remove from oven and cool on a rack.
Topping:
Mix the 8 tablespoons of each of the Sweet Spreads products (if desired warm over stove top!).
Add semi-chopped nuts.
Pour over the top of the muffins.
Enjoy!
---
If you have any questions or suggestions just email me at Tina (at) Paleomazing.com.