Although I really try to keep my site focused primarily on paleo recipes, helpful tips and all things paleo, I am also a mom. A proud mom! A mom who is super jazzed about my son, Cassidy Turbin's, recent accomplishment of being nominated for not one, but two Grammys!
He has worked his butt off for this. He is nominated in the categories of Best Album of the Year and Best Engineered Album. Both for his engineering on Beck's latest album "Morning Phase" which he worked on with the rest of Beck's team.
Cassidy is a "jack-of-many-musical-trades" and has a strong passion for drumming. At just 28 years old, Cassidy has already contributed as an engineer to dozens of notable albums and songs, including the White Stripes' Hardest Button to Button (Beck Remix), Charlotte Gainsbourg's Stage Whisper (2012) and Terrible Angles EP (2011), The Twilight Saga: Eclipse soundtrack, The Haunted Man by Bat for Lashes (2012), and Dwight Yoakam's 21st Century Hits: Best of 2000-2012 (2013) and Three Pears (2012).
Ok, I had my "mom moment". Check out the whole press release below that was done on him to learn more and cross your fingers that he wins!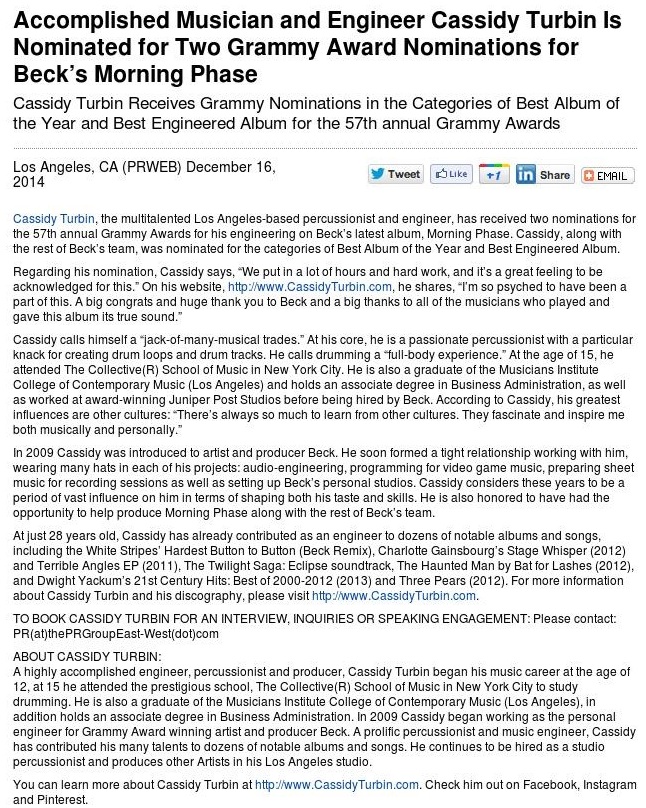 If you have any questions or suggestions just email me at Tina (at) Paleomazing.com.