One of my greatest pleasures in life is a morning treat like paleo and gluten free banana bread and a cup of coffee. Even though some paleo adherents don't drink coffee, I adore it and still enjoy drinking it! (By the way, I've shared some great information here about the different types of paleo diets on my page, The Paleo Diet.) Especially when I'm on vacation or if it's during the holidays and it's nice and chilly outside, nothing says warmth and comfort like a hot cup of coffee and warm, healthy banana bread. Sometimes I like to spread butter or almond butter on it, or top it with some yummy Paleo Whipped Cream Coconut Alternative, but this recipe tastes great all on its own!
Here's a hint: the key to this recipe is to use VERY, VERY ripe bananas. This is THE secret!
Print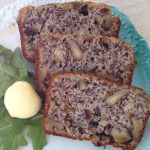 ---
Description
The key to this recipe is to use VERY, VERY ripe bananas. This is THE secret!
---
4 cups

grain-free flour of your choice (I prefer almond flour)

2 teaspoons

baking soda

2 tablespoons

baking powder

2 teaspoons

cinnamon

½ teaspoon

salt

1 cup

sweetener of your choice (including Erythritol or Stevia)

½ cup

honey

2 cups

VERY, VERY ripe bananas–that is the key to this recipe!!!!

1 cup

milk or rice milk or almond milk

1 cup

vegetable oil or coconut oil

4

eggs
OPTIONAL: 1/2 cup chopped nuts of your choice – walnuts are delicious!
---
Instructions
Preheat the oven to 350F degrees.
Mix all your dry ingredients together (not the nuts) in one larger bowl.
Mix well.
Mix all your wet ingredients in another bowl.
Fold the wet into the dry until very well mixed.
Once the batter is well mixed you may add the optional nuts by folding these in. Do not overmix.
Evenly oil two loaf pans or glass cooking dishes with vegetable oil or coconut oil.
Pour equal amounts of batter into each baking dish.
Garnish with nuts if you prefer.
Place in the center of your oven and bake for 20 minutes. You may need to bake the bread for a bit longer; it will all depend on your oven and baking dishes.
Test doneness by touching the top. It will gently spring back and be soft and not "wet" in the middle. It is not necessary to do the knife test on this recipe.
Enjoy!
---
If you have any questions or suggestions just email me at Tina (at) Paleomazing.com.