This is one of my favorite paleo recipe creations. I haven't found anyone yet who doesn't rave about these paleo blueberry scones. Only 20 or so minutes and you have yourself some delicious primal treats! They're quick and really easy to make and healthy. I had to make a few batches before I could say this was a final APPROVED recipe. Well my friends, this is the real deal, it is incredible.
These scones last quite well, and once cooled I recommend boxing them up in a tightly sealed container for about an hour. And guess what? They taste better as the days go by! That is the nature of grain-free, paleo baked goods. Be sure and place them in the fridge by day three, in case you are like me and leave them out for everyone to grab as they wish. We do not want odd creatures to start growing on those scones!
I also made a couple of batches and tested them for you by freezing them. They thaw well and taste fresh once they are set to go. Warmed up with a little grass-fed butter or your own topping such as my whipped coconut cream, and you will not be disappointed (topping suggestions are in my recipe box below). I hope you enjoy these and making the recipe as much as I have in developing them. This was really a lot of fun – and delicious too!
Print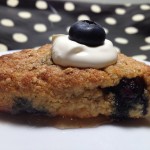 Paleo Blueberry Scones
Author:

Prep Time:

10 mins

Cook Time:

10 mins

Total Time:

20 mins
---
Description
These delicious paleo blueberry scones are quick and easy to make as well as healthy and delicious!
---
2 ½ cups

almond flour

2 tablespoons

tapioca flour + some extra to toss with blueberries

1 tablespoon

coconut flour

½ teaspoon

salt

½ teaspoon

baking soda

2 tablespoons

maple sugar

2

egg whites

1 teaspoon

vanilla

1/3 cup

walnut oil minus 1 tablespoon (or your choice of nut oil)

1/3 cup

pourable honey

1 ¼ cups

frozen blueberries*

2 teaspoons

lemon juice
Coconut oil for greasing your pan
OPTIONAL: Extra date sugar or maple sugar for decoration
*I sometimes use fresh blueberries too. If you do, still follow the directions for frozen berries. The result is still fabulous yet the scones are slightly moister the following days.
---
Instructions
Preheat oven to 350F degrees.
Grease your baking sheets.
In a 2 quart size bowl, combine the flours, salt, baking soda and maple sugar.
Sift well.
In a 1 quart bowl, mix together the egg whites, vanilla, oil and honey.
With a hand mixer, whip this mixture on medium-high for about a minute.
Immediately pour your wet ingredients into your dry and stir to combine.
In a separate bowl, toss the blueberries with the "extra" tapioca flour until blueberries are well coated.
Mix the blueberries into your "dough" by folding them in over and over until fully incorporated, and at the same time add the lemon juice.
To better handle the dough, refrigerate for half an hour to firm up and chill.
For muffins, which I call "bite-sized" muffins, use a soup spoon (nothing larger) and place each muffin 2 inches apart.
Each piece should be approximately 2 inches wide, 1-2 inches tall – but it's up to you. The less dense, the less time cooking.
OR you may shape them into the standard "triangle" or use a mold. I used a mold and shaped them by hand – both work perfect, especially with the cold dough
Prepare an egg wash and brush over the scones. Sprinkle some extra date or maple sugar if you desire.
For small bite-sized scones, bake for 8-10 minutes.
For triangle shaped scones or larger, you will cook longer, approximately 15-20 minutes, which will all depend on the size you make.
Let cool for 1-2 minute then remove to cooling rack.
Do not cover for at least 2 hours.
The bite-sized ones will be moist inside and slightly crisp outside – delicious!
Serve these plain or with grass-fed butter or coconut oil. Top with some sugar if you must (not needed), but I used date sugar in the photo.
Berries will start to ferment and mold after a few days if left out, so make sure you refrigerate or freeze your scones after two days.
Enjoy!
---
Notes
If you want to make these scones as my mini blueberry bites, follow the exact same recipe and just form the shape and size that you desire and lower the cooking time accordingly.
If you have any questions or suggestions just email me at Tina (at) Paleomazing.com.