Cornish Game Hen has always been a favorite of mine to work with in the kitchen and this was well before heading into a higher vegetable, more primal inclined diet which I now adore. I honestly can come up with so many ideas with them, and I'm happy to have created this paleo version alongside a truly awesome stuffing recipe.
So about the "stuffing"… it is an amazing option to pair up with chicken or turkey… And for another option, I would suggest my Cauliflower Mashed Potatoes or any other paleo side dish.
I find that those who are newer to the kitchen may be a bit intimidated with using the oven for any poultry, or have heard horror stories about poultry. Well, one of the great things about these hens is their size. They cook a bit quicker than a chicken so no worries there, and less kitchen time! Anyone can really play around with the flavors as much or as little as they want. Herbs are really quite versatile once you start to learn about them. Try one at a time, get to know them and figure out which you like best.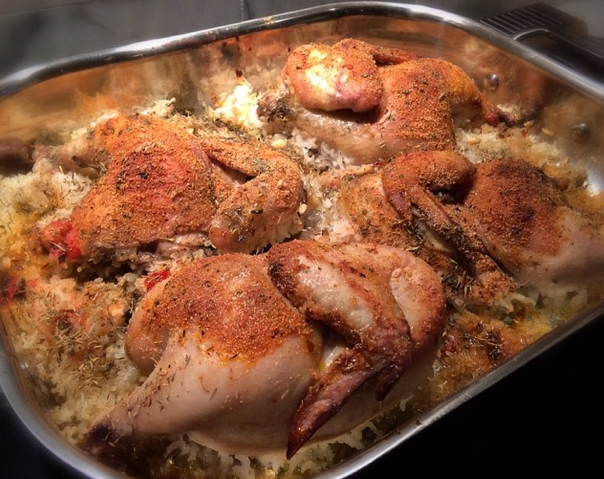 A fact about Cornish Game Hens worth sharing is that they will usually be very close in weight when you purchase them. They are scooped up to be ready for the market when they are around 2.5 pounds. This will assist you even more in your preparing more than one as you won't have different sizes to worry about. Same size items equals same cooking time which equals simple cookin! Just wait until you hear the "ooh's and aah's". It will all be worth it. I love this paleo recipe!
Please rest assured you can serve these hens with plain cauliflower "rice" or plain white rice and not get into worrying about the carbs if that is your preference. Paleo is not strict and is simply a template. Some people find that they do quite well with rice, especially avid intense athletes. Some people actually need a few extra carbs to help their activity level as well.  So whether you choose rice or veggies as your side, you can't go wrong with this paleomeal.
With that being said, I hope you enjoy!
Also, check out some of my other recipes and take a peek at what I have going on over at my giveaway page!

Print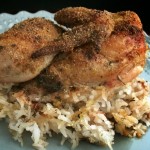 Paleo Corning Hens with Awesome Stuffing
---
Description
Cornish Game Hen has always been a favorite of mine. It tastes good, and you can play around with it in so many ways and when you plate it for dinner it makes you look like a culinary genius! Easier to manage than a big chicken and soft and juicy on the inside.
---
2

medium sized Cornish Game Hens

2 teaspoons

paprika

2 teaspoons

garlic salt
Salt & pepper to taste

6 cups

cooked and drained cauliflower "rice" or cooked white rice (for those eating rice)

2

–

3

tablespoons unsalted grass-fed butter or ghee

2

medium yellow onions, finely chopped

2

medium celery stalks, diced into medium pieces (about

¾ cup

)

1/3 cup

finely chopped fresh flat-leaf parsley

2 tablespoons

finely chopped fresh sage or

2 teaspoons

dried

2 tablespoons

finely chopped fresh thyme or

2 teaspoons

dried
Oil, butter or ghee to grease pan
Optional Orange Sauce

1 cup

fresh, no pulp orange juice

1/8 cup

Dijon mustard

1/4 cup

organic honey
OPTIONAL: 1/4 cup gluten-free soy sauce
---
Instructions
Preheat oven to 425F degrees.
Grease your glass Pyrex dish, or baking dish of choice with oil, butter or ghee.
Cut hens in halves.
Salt and pepper the hens.
Salt inside the cavity.
Sprinkle the paprika and garlic on the hens.
Add some fresh cracked pepper and a few pinches of salt.
Heat your skillet and warm the butter.
Cook your onions until clear and soft.
Add your celery and cook for another 2-3 minutes, stirring the whole time.
Remove from heat source.
Add your cauliflower or rice and stir.
Add in your parsley, sage and thyme.
Place "stuffing" in the baking dish and spread evenly.
Place the hens skin side up on the pan.
Cover with foil lightly.
Roast in the 425F degree oven for 40 minutes.
Uncover and reduce oven to 375F degrees.
Bake for another 15 minutes, uncovered, until golden on top.
Add some additional butter or ghee to the stuffing as needed.
Remove and let sit for 10 minutes before serving.
Salt to taste.
Optional Orange Sauce
Add all ingredients to a saucepan and heat up.
Serve on top of the dish or as an optional side condiment.
Enjoy!
---
Notes
You may serve the hens on plain "cauliflower" rice or plain rice and omit any seasoning if you prefer.
If you have any questions or suggestions just email me at Tina (at) Paleomazing.com.