Today is ice cream pie day. What does granola have to do with this? Well, I am so absolutely hooked on this Paleo Granola from Steve's Paleo Goods and their "sampler option". I had to share this information on this very day, perfect for when we are in the mood to make an ice-cream pie; and a paleo one at that. You can actually use this granola as the base with or without added dates. I show you exactly how below, with a vegan option as well!
Many of you have seen Steve's Paleo Goods products in the stores and many of you are sharing it on social sites. Man oh man, I had to do even more and get this info out to you, my trusty buds that come to my site or subscribe to my feeds. There is SO much more to this company than many realize and more to their delicious flavors than being "just another granola". Read about both and you will be enlightened about an awesome company, giving and helping children; a company that has heart and soul and that loves kids like I do and like I hope you do too.
Steve's Paleo Goods granola is out of this world. I have tried many and this is by far one of my favorites to date for a number of reasons. The ice-cream pie crust idea which makes for an amazing paleo dessert recipe is just one of the many reasons. The flavor options are killer, the carbs ratios are low, it contains good protein, the ingredients are clean and they are all bursting with that true granola crunchy flavor. Each option tastes so different. I first tried the Paleo Krunch Sampler which allows us to try each and every flavor offered. This is such a great idea as it helped me to decide which ones were my favorites to then place my next order.
After feeling confident about these granolas I indulged and ordered the bars. They are not really the granolas made into a bar as the texture is moister. I felt the bars were ideal for my hikes as it gets hot as hell up there in the mountains and sometimes snacking on too much protein and fat is not good for my body in the heat and during long hikes. These bars were the exact right amount of "umph" to keep me happy, energetic and from falling over dead in my tracks.
Now here comes the most interesting point about this company, Steve's Paleo Goods. This company gives to kids. I am all about supporting kids and anything that encourages kids to stay on the path to a good, healthy, happy and successful life that THEY want. Wow, the lives that are being changed that could have all gone in the wrong direction. Steve's Club helps at-risk kids by giving them a truly safe environment where they all can learn about fitness, nutrition, have a haven to hang out and meet others. Gives them a place to gain backbone both mentally and physically. You can rest assured that each and every time you purchase food from Steve's Paleo Goods, 15% of the proceeds is used to help keep Steve's Club up and running – such an amazing and awesome endeavor!
Watch the below video and see the real deal!
We can all buy this company's products and help support a cause that is so necessary. This is just ideal; truly a win-win. Visit the Steve's Paleo Goods website at www.stevespaleogoods.com to learn more. Now let's make that ice-cream pie crust!  Let me know how yours turns out!
Print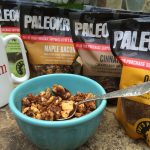 Paleo Ice-Cream Pie Crust
---
Description
This ice cream pie crust featuring Steve's Paleo Goods granola is paleo, delicious and so, so simple to make. I've also included a vegan option. Load up with your favorite paleo ice cream and enjoy ice cream day – which just happens to fall on August 18th!
---
2 cups

granola of your choice (or mix them!)

6

–

8

Medjool dates, pitted (depends on moistness)
Oil, grass-fed butter or Spectrum Organic Shortening for greasing your pie dish
---
Instructions
Grease your pie dish with coconut oil or butter (Spectrum if you are Vegan).
Place the granola in a food processor.
Pulse while adding a couple of dates at a time (you will determine how chunky or smooth you want your crust.)
Keep pulsing to desired consistency.
Press the mixture into your greased dish and place in the freezer OR bake in a preheated 350F oven for 8 minutes.
If you bake it, remove from oven and chill or freeze until cool.
Load up with your paleo friendly ice-cream.
Place back in the freezer for 20-30 minutes.
Remove, slice and serve.
Enjoy!
---
If you have any questions or suggestions just email me at Tina (at) Paleomazing.com.