A brown stock is actually bones "dry" cooked in the oven (any kind) with an assortment of vegetables (as in the paleo homemade brown stock recipe below). After they are done, you then work your magic on the stove. The stock leaves you an incredible base to use for sauces, soups, broth, etc. I am fortunate to have learned some missing basics at the culinary school I am attending.
When any of us are at a finer restaurant why do their toppings taste so rich, or why are they so embodied with flavor? Most likely it is the stock that they made ahead of time for their customers.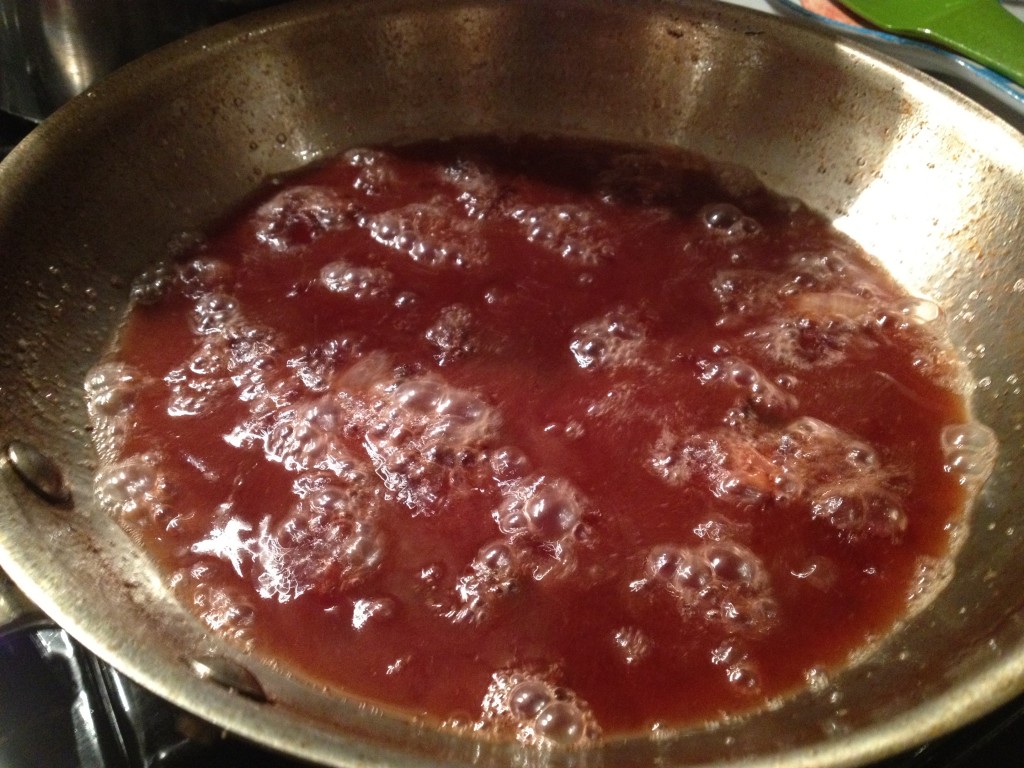 There really is nothing like creating your own healthy, homemade delicious stock with your own bouquet garni, plus the assortment of vegetables you decide to include. All explained in the below recipe.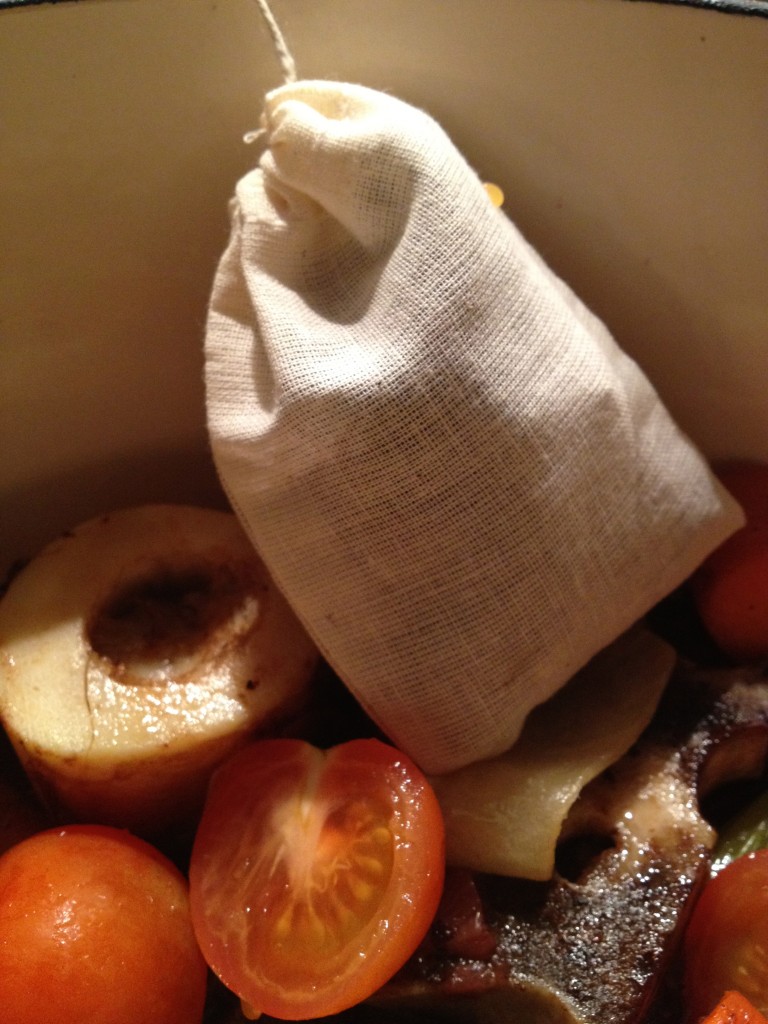 I was so excited after class, that I came home and made myself two pots of this to freeze and use for many finer dishes, to share with you.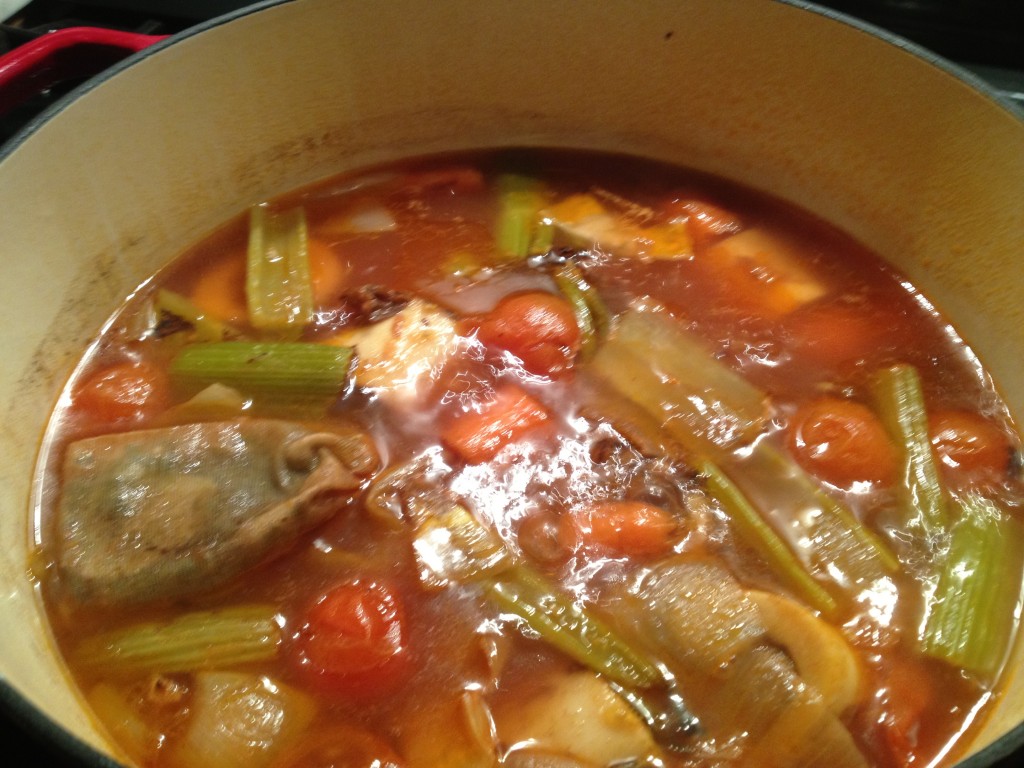 I altered the recipe to make it paleo and to suit my needs and tastes and to be able to use what I had on hand in my kitchen. The original recipe was out of a cookbook the chef at my school had shared with us, but unfortunately the print-out given to the students did not have the name of the book on it.
Enjoy and have fun with this one! You will never look at fine dining the same when you are out. YOU now know what is behind those many flavors. And now you have your little secret behind what you can do at home. So, let's get started and have some fun and wow your family and friends.
Print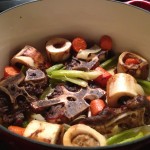 Paleo Homemade Brown Stock – Not a Broth
---
Description
There is a large difference between a stew (that you might have as part of a paleo dinner) and a stock, especially a brown stock. If you are newer to cooking you may not know this so it is time to learn a new recipe technique.
---
1 ½

pounds beef bone marrow

1 ½

pounds beef neck bones with meat

2

carrots

½

large onion

2

celery stalks

½ cup

sherry

½ cup

merlot

1 cup

sauvignon blanc
Bouquet garni (3 bay leaves, 1 teaspoon peppercorns, 1 large twig of thyme, 2 pieces of parsley)
---
Instructions
Preheat oven to 450F degrees.
Break the bones into smaller pieces.
Place the bones in a roasting pan together with the onion, carrot and celery.
Bake until the bones are golden brown.
Turn the bones once or twice as they brown.
Transfer bones and vegetables to a large stock pot.
Discard the fat from the roasting pan and deglaze with sherry, merlot and sauvignon blanc. Reduce until only ½ of the liquid remains.
Add to the stock pot.
Add bouquet garni and enough water to cover the bones.
Slowly bring to a boil and then lower heat to a simmer.
Add water whenever the liquid gets too low.
Skim and degrease whenever necessary.
Enjoy!
---
If you have any questions or suggestions just email me at Tina (at) Paleomazing.com.