I made this incredible recipe for guests last year at my daughter's baby shower. Now it is available as a paleo version for those who eat dairy, no grains and obviously no noodles. Not even veggie curly noodles. Surprise! The dish that I made last year was a gluten-free version and it was such a hit that we are making it again, but this time it is paleo macaroni and cheese. Never a dull moment in this kitchen.
I used two very big 24-inch cast iron pans that I ordered online. The sight of them was a hit in themselves. Macaroni and cheese is good home comfy food, and perfect for the winter holidays and warming up the body and reminiscing.
Originally I took three gluten recipes (see the below references) and made them into one to suit my needs. I made changes with the choice of cheese that "were" my favorites. I no longer eat dairy but I did have this and loved it, but my tummy did not.
I think you will enjoy this and as always, send me your pictures, successes and any alterations you may make to this paleo recipe. I am always inspired by your emails.
I used the ideas at the below links to make my macaroni and cheese recipe into a gluten-free version (and subsequently a paleo version) and simplified what I could:
http://www.foodnetwork.com/recipes/3-cheese-macaroni-and-cheese-recipe.html http://www.foodnetwork.com/recipes/ree-drummond/mac-and-four-cheeses.html   http://www.cookingchanneltv.com/recipes/aunt-chelles-three-cheese-macaroni-and-cheese.htm
Print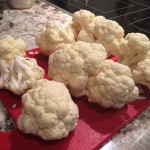 Paleo Macaroni and Cheese
---
Description
This Paleo THREE cheese macaroni and cheese is sure to be a hit with anyone and everyone. I selected my favorite cheese combinations just for this very recipe, and swear by them.
---
2

raw cauliflower heads

1/4

pound bacon, diced

1

medium onion, diced

1 tablespoon

salt (for water)

6 tablespoons

unsalted butter, plus more to butter baking dish

2

–

3

tablespoons tapioca flour or corn starch

1 tablespoon

dry mustard

3 cups

whole milk

1 cup

heavy cream

2 tablespoons

fresh cracked pepper

1

pound sharp white cheddar cheese

6 ounces

Fontina

4 ounces

Asiago
Optional for topping:

3 tablespoons

chopped Italian parsley

2 tablespoons

chopped scallions

2 cups

paleo bread crumbs
---
Instructions
Preheat oven to 325F.
Butter a 9×13 inch glass baking dish.
Grate all your cheeses.
Bring a large pot of water to a boil (ensure you have a lid for it) and place a steamer basket in the pot.
Break up the cauliflower into large hunks and place in a steamer basket.
Cover and cook until FIRM.
Cook in batches if your pot is too small.
Drain, uncover and set aside.
In a large heavy pot, sauté the bacon until crisp.
Remove bacon and place on paper towel.
Sauté the onion in the bacon drippings until soft.
Add the 5 tablespoons butter to the onion mixture.
Melt the butter stirring with a wooden spoon.
Using a whisk, add the corn starch or tapioca flour a LITTLE AT A TIME, and stir constantly until well mixed with the fat until it becomes a roux. It will bubble.
Whisk in the dry mustard.
Very slowly add the milk and cream but you must whisk constantly.
Let come to a simmer and stir frequently for 15 minutes.
Strain the hot milk mixture into a metal bowl and discard the solids/onion.
Place mix back in the large heavy pot right away
Immediately mix in all the grated cheeses, bacon and pepper.
Mix.
Continue to stir until all the cheese is melted.
Remove from heat.
Add the FIRM cauliflower hunks (you can break as small as you wish now) to the cheese mixture to coat.
Place the entire mixture into the prepared baking dish (see my optional step below).
Place dish in the middle of oven.
Bake for 10 minutes – I like mine HOT!
Remove from oven when done and rest for 5 minutes.
Garnish with parsley or chopped scallions now or last 5 minutes of baking.
OPTIONAL STEP: Mix paleo bread crumbs together with some parsley and sprinkle on top of the dish.
Bake for another 15 to 20 minutes.
Enjoy!
---
If you have any questions or suggestions just email me at Tina (at) Paleomazing.com.