I love a quick and easy mix and Birch Benders is one of my paleo favorites when it comes to mixes, especially when I travel. I tuck a bag into my suitcase for those "just in case" moments where I'm literally stuck with no gluten-free or grain-free (paleo) options and I feel like I am going to starve to death. I need some clean carbs as I am active and cannot live on fats and proteins alone, and a satisfying recipe like this one for paleo maple almond pancakes does the trick.
These pancakes are a real twist to the usual that is out there on the internet, I think you will really like them!  While you're at it, take a look at some of the other unique and delicious Birch Benders recipes that have been featured on my site like paleo pizza and their delicious snack bites.
Print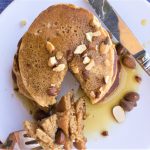 Paleo Maple Almond Pancakes
---
Description
These delicious paleo maple almond pancakes are a real twist to the usual that is out there on the internet, I think you will like really them.
---
1 cup

Birch Benders paleo pancake mix

¼ cup

maple syrup

½ cup

almond butter

¾ cup

water

¼ cup

crushed almonds, for garnish
Coconut oil, for greasing
Maple syrup
---
Instructions
Heat a griddle or skillet over medium-high heat. The pan is hot enough when flecks of water sizzle off quickly after contact. If using a cast iron pan, keep an eye on your heat as the pan will hold heat well and you may need to turn down your burner over time.
Lightly grease your pan – we like to use about a tablespoon of coconut oil and use a paper towel to quickly spread and wipe off excess.
In the bowl of a standup mixer, combine the almond butter, maple syrup, and water on low speed until fully combined.
Fold in the paleo mix.
Using a ¼ cup measuring cup, scoop batter into pan, one or two pancakes at a time, depending on the size of your pan.
Cook until bubbles have formed and popped.
Turn once and let cook a bit more.
Remove from heat.
If making a larger batch, pancakes can be stored in a 200F degree oven while you finish cooking the rest.
Garnish with almonds, if desired and serve alongside maple syrup.
Enjoy!
---
If you have any questions or suggestions just email me at Tina (at) Paleomazing.com.