When I was on the gluten free diet (which I adopted for medical reasons after being diagnosed with celiac disease, which is an autoimmune disease triggered by gluten), I got into gluten-free baking and learned how to make a large variety of gluten-free breads. Trouble was, I still wasn't healing on the diet because I was eating grains (which is not uncommon for celiacs).
Well, now that I'm Paleo, I'm having a ball creating my own many baking breads,muffins, scone, cookies etc. I can eat all over again. It's been quite a learning curve, but I've learned a lot. Well, I've shared with you what I've discovered under my  Paleo Kitchen Tips page, such as my Paleo Friendly Baking Flours list. I encourage you to use my experience which I freely share, and read up on paleo baking and be sure to share with me what you come up with!
I have a picture above of my most recent scones as they were delicious but the recipe below is for a full size loaf f bread. I have made notes so you can play with this recipe and make them into a scone like I did if you prefer. I hope you enjoy them as much as my family do.
Print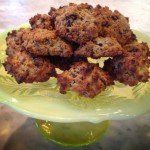 Paleo Mini Bread or Scones with Dried Fruit and Pecans
Author:

Prep Time:

15 mins

Cook Time:

1 hour

Total Time:

1 hour 15 mins
---
Description
These Paleo mini scones can be made as a roll, scone or even as a full size loaf. I love making my recipes versatile and having a full size loaf as an option is wonderful as there are only a small handful of Paleo loafs available. One of my favorites is melted butter on a scone or a slice of my bread
---
¾ cup

almond butter, mixed well

4

large eggs (room temp)

¼ cup

tapioca flour

½ teaspoon

salt

1 teaspoon

baking soda

1 teaspoon

cinnamon

1 teaspoon

cider vinegar

¼ cup

dried blueberries (sugar free)

½ cup

raisins (I used

¼ cup

Golden and

¼ cup

Thompson Seedless Raisins)

½ cup

dried cranberries (I find it hard to locate sugar free but I do at Erewhon in Los Angeles and sometimes on line)
coconut oil for greasing pan
---
Instructions
Preheat oven to 350 degrees.
Place rack in center of oven.
Grease a loaf pan with coconut oil or oil of choice.
In one bowl add the almond butter and eggs.
Whip on low, med then high, getting a real frothy thick mix.
Lower speed then add 1 tsp cider vinegar.
Increase speed a few more seconds.
In a second bowl add the tapioca flour, salt, baking soda and cinnamon. Sift well.
Add the second bowl with the dry ingredients to the first bowl with wet ingredients, folding in and mixing (do not over mix, fold in).
Add in blueberries, raisins and cranberries.
Pour into greased loaf pan and spread evenly.
Optional: For sweeter breakfast bread, I will add 3 tablespoons sugar-free raspberry preserves. Swirl in gently along the top of the bread creating a marbled effect. For scones I do not do this.
Immediately place in center of oven and bake for 25 minutes.
Turn the baking pan around and bake for another 25 minutes.
Test bread by placing a clean knife in center of loaf. If it comes out clean, it is done.
If knife does not come out clean, turn down oven to 325 degrees and lightly cover with foil.
Bake for 5-15 minutes more, checking frequently with the knife test.
Take out when moist but not wet and place on rack to cool – Paleo breads will continue to "bake" outside oven. Homemade baked Paleo breads always taste better the next day as opposed to fresh "wheat" bread hot out of the oven –Interesting!
Let cool then remove from pan.
Enjoy! This bread freezes well!
---
Notes
For my mini scones I place a large tablespoon of batter on waxed paper and bake in oven and keep an eye on them after your first batch you will have an idea how long in your oven. 10-14 min. It really varies.
If you have any questions or suggestions just email me at Tina (at) Paleomazing.com.