I love a clean, healthy, paleo, gluten-free and primal dessert that does not leave me full or too overly "desserted". Even better to me is when a dessert is so good for me it alone can act as a meal. This paleo raw hazelnut chocolate mint tart is just that, a dessert-meal! I am not kidding and this one recipe will last forever as it is so dense and full of flavor and nutrients that a small slice is satisfying beyond belief. This recipe is definitely raw, and ideal for any true raw foodie. Yes folks, raw is also paleo and eating raw is an ideal way to get many nutrients into the body. I soak my nuts first, or sprout them as often as I possibly can.
In this recipe I used a new sweetener called Dolcedi which is made of just apples! I was terribly excited to try this out and it is fabulous to work with and yielded the perfect sweet and ideal flavors I was hoping for.
Let me know how you like this recipe and be sure and tag me in your Facebook or Instagram photos. I always love to see what you make!
Have a terrific day!
Print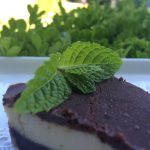 Paleo Raw Hazelnut Chocolate Mint Tart
---
Description
This delicious raw hazelnut mint tart will last forever as it is so dense and full of flavor and nutrients that a small slice is satisfying beyond belief. A true raw and clean dessert and absolutely sugar-free. The only sweetener in this recipe is Dolcedi which is made from 100% organic apples.
---
CRUST

1 cup

hazelnuts

1 cup

pitted, moist Medjool dates

1/4 cup

raw cacao powder

2 tablespoons

coconut oil
WHITE MINT FILLING

2 cups

raw cashew pieces

¼ cup

coconut cream

¼ cup

shredded coconut

½ cup

Raw coconut oil

¼ cup

honey or Dolcedi sweetener

6

–

10

drops Peppermint Extract (taste it as you add it to suit your personal desire!)
CHOCOLATE TOPPING

¼ cup

coconut oil, melted and warm

¼ cup

pure maple syrup or Dolcedi sweetener

¼ cup

raw cacao powder
---
Instructions
Soak the cashews for at least 5 hours.
Line the bottom of a pie tin or an 8-10 inch pan with wax or parchment paper. Grease the sides with some coconut oil.
Place all of your crust ingredients into in a food processor and pulse until it sticks together well.
Press the mixture into the pan and smooth it out all around and even it out with your hands.
Freeze for about 30 minutes while you prepare the filling.
Place all the ingredients for the filling in a high speed blender (I use a Vitamix) and combine until really creamy.
Add the peppermint oil a little at a time, all depending on your own taste buds.J
Pour the peppermint mixture on top of the crust, after is has been in the freezer for 30 minutes.
Roll the pie tin around and let the peppermint filling get to all sides evenly.
Drop the pie tin on the counter hard a few good times to remove all air bubbles.
Place back in freezer for 2 hours to allow to set and chill well enough for the next step.
Add the melted and quite warm coconut oil, maple syrup/Dolcedi and cacao to a small mixing bowl and stir well. It should look like pourable chocolate sauce.
If not, then you may heat in a pan and if you are not opposed to using a microwave, you may heat it for 15-20 seconds.
Spoon or pour the chocolate topping on top of the well chilled/frozen peppermint layer.
Now lift up the pan and roll the chocolate around so it evenly distributes. It will harden as you do this.
Place the tart back into your freezer for just a ½ hour – 1 hour or longer if you are not ready to eat it.
When you are ready to eat it, remove the pan from the freezer and let sit for approximately 10 minutes. It will be perfectly firm and ready to slice up and eat.
Store the leftovers in the freezer and simply thaw and eat as just stated above.
Enjoy!
---
If you have any questions or suggestions just email me at Tina (at) Paleomazing.com.