You know, catfish has somewhat of a bad reputation, but I think this is unfair. Catfish is not only yummy when prepared just right, but it's healthy too! After all, it has lots of omega-3s and omega-6s, almost 16 grams of protein per serving, and lots of B-12. It's also relatively low in mercury too compared to other commonly eaten fishes. I think seafood is an important part of a paleo diet, and this recipe for paleo thai food catfish skewers & yummy cabbage slaw is a great way of incorporating it into your meal plan.
I encourage you to check out my paleo fish and seafood recipes and share your own with me through my Contact page!
Print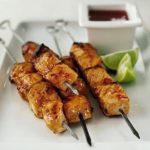 Paleo Thai Food Catfish Skewers & Yummy Cabbage Slaw
---
Description
You know, catfish has somewhat of a bad reputation, but I think this is unfair. Catfish is not only yummy when prepared just right, but it's healthy too! Read up on the health benefits above or google it. I think you'll really enjoy this delicious recipe.
---
GINGER-LIME MARINADE AND FISH

3 tablespoons

fresh lime juice

3 tablespoons

gluten-free Asian fish sauce

2

stalks fresh lemongrass, the bottom third yummy part only, sliced

2 tablespoons

date sugar (or

3 tablespoons

honey with a teaspoon of molasses)

1 tablespoon

peeled, chopped fresh ginger

1 tablespoon

olive oil

1

large jalapeño chile, sliced (optional if you do not like spicy)

1

shallot, sliced (you may use a small onion if you are doing this on a whim and don't have any shallots to hand)

2

garlic cloves, coarsely chopped

4

(6-ounce) ¾-in thick swordfish, bass, or catfish fillets, halved lengthwise
Olive oil for brushing on the fish.
THE YUMMY CABBAGE SLAW

6 cups

finely shredded savoy or napa cabbage

1

small seedless cucumber, cut into julienne strips

1

small orange bell pepper, cut into TINY julienne strips

2 tablespoons

seasoned rice vinegar

½ teaspoon

coarse sea salt

¼ cup

fresh mint leaves

8

(12 inch) bamboo skewers, about a ½-inch wide
---
Instructions
GINGER-LIME MARINADE AND FISH:
Process all marinade ingredients in a food processor until pureed.
Reserve ⅓ cup for savoy cabbage slaw.
Pour remaining marinade into a large food-storage bag and add your fish fillets.
Close bag and turn to coat.
Refrigerate for 1 to 2 hours, turning bag once or twice.
THE YUMMY CABBAGE SLAW
Place the reserved ⅓ cup marinade in a large bowl.
Add cabbage, cucumber, bell pepper, vinegar, and salt.
Toss.
Refrigerate for 1 hour, tossing occasionally to combine.
Heat an outdoor gas grill, or prepare coals for a charcoal grill for direct grilling over medium-high heat.
Remove filets from marinade.
Wipe excess marinade from filets with a paper towel.
Brush skewers with olive oil, then carefully thread lengthwise through fillets.
Brush the cooking grates clean and oil the grill rack.
Lightly brush filets with oil.
Grill skewers over direct heat until you can turn them without sticking, 3 to 4 minutes.
Grill 4 minutes more or until barely opaque in the thickest parts,
Toss mint into slaw and serve with the Thai catfish skewers.
Enjoy!
---
Notes
This is an adaptation of a recipe I read in a magazine and unfortunately I do not recall which one it was as I tore it out of the book in my pile of "try these out one day" recipes. I altered it somewhat to ensure it is gluten-free and sugar-free and spicy optional, yet removing the spice would defeat the purpose.
If you have any questions or suggestions just email me at Tina (at) Paleomazing.com.