While Quinoa is not considered paleo, many others, including myself, decide to modify the paleo diet to include foods which do well with them. Quinoa is a seed that has a delicious nutty taste and is packed with protein for those individuals who do well with it. Recently, I created a recipe for delicious gluten free chocolate chip cookies using Honeyville's Quinoa flour. Honeyville tested out my recipe and enjoyed it so much that they have decided to feature the recipe on their quinoa flour packaging, making PaleOmazing now available in Costco!
Quinoa is a substitute flour for those who are on a gluten-free diet. I had an exciting time experimenting and testing out my own new recipes with quinoa flour ultimately developing this new gluten-free recipe; being in the kitchen is one of my favorite places! As you all know, I just love creating recipes to share so you all can easily adapt to the paleo lifestyle right for you.
In addition to this great news, PR Web decided to run the story all about my recipe and broadcasted it. I am excited for this opportunity and have enjoyed using Honeyville products for years now. I continue to be impressed with their products and I use their blanched almond flour in many of my recipes. I've found the brand makes a noticeable difference in the products I create. You can check out the press release by PR Web here or down below – give it a read!
I feel honored to have had the opportunity to work with Honeyville and Costco on this venture. I highly respect both of these companies very much and have worked with Honeyville to supply recipes to them for nearly two years.
I look forward to more opportunities like this, working with other companies, so I can further create paleo and clean eating recipes for you, your family and the public at large.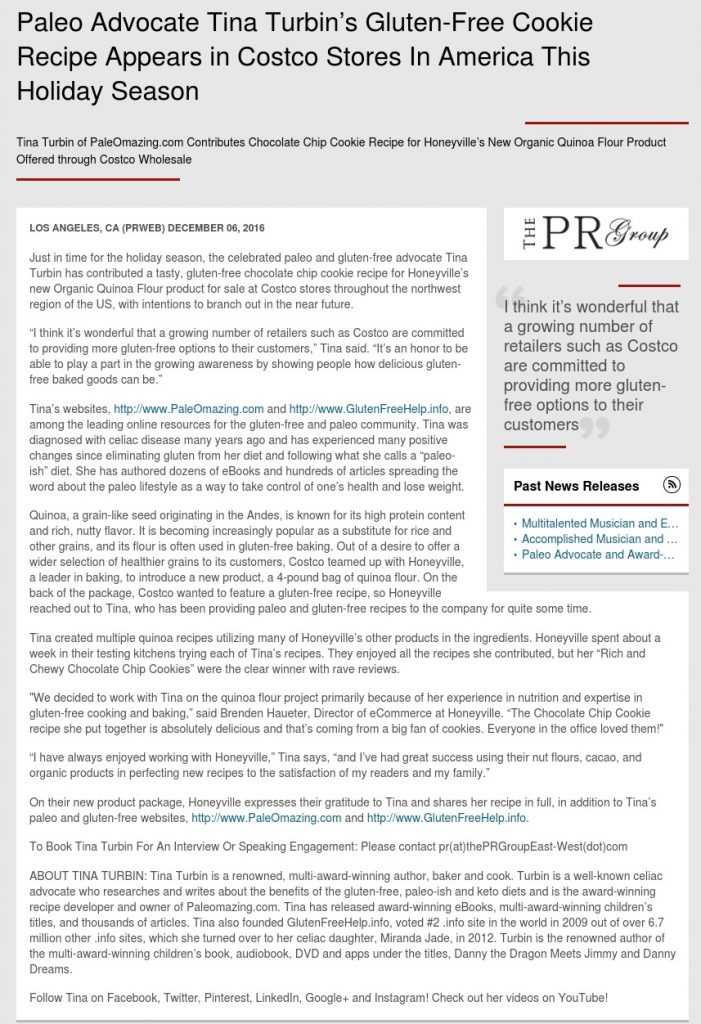 If you have any questions or suggestions just email me at Tina (at) Paleomazing.com.