I am terribly excited and honored to receive a GOLD Mom's Choice Award for my website Paleomazing.com. They have looked well into my site and feel it is a GOLD when it comes to a very reliable reference and helpful site across the globe worldwide!
Then more excitement occurred. The PR Group East-West spread far and wide a press release (below) all about my Mom's Choice Awards status and my site, and that my site had won this honor. As if winning wasn't already making my year, this just tipped the scale.
The press release really sheds light on what what the Mom's Choice Awards program does and what it means to win this award. You can check it out below and see for yourself just how far my new site, Paleomazing, has come all  thanks to you all and all the moms and people involved with the Mom's Choice Awards!
I had received two Silver status awards in the past for my children's book title: Danny the Dragon Meets Jimmy, and my children's bedtime CD, DREAMS, but was still extremely excited to get Gold for my "baby", Paleomazing. I am truly honored!
Read the press release below to see what PR Group East-West had to say about the Mom's Choice Awards.
Then check out some of my PaleOmazing recipes and health related eBooks. Enjoy!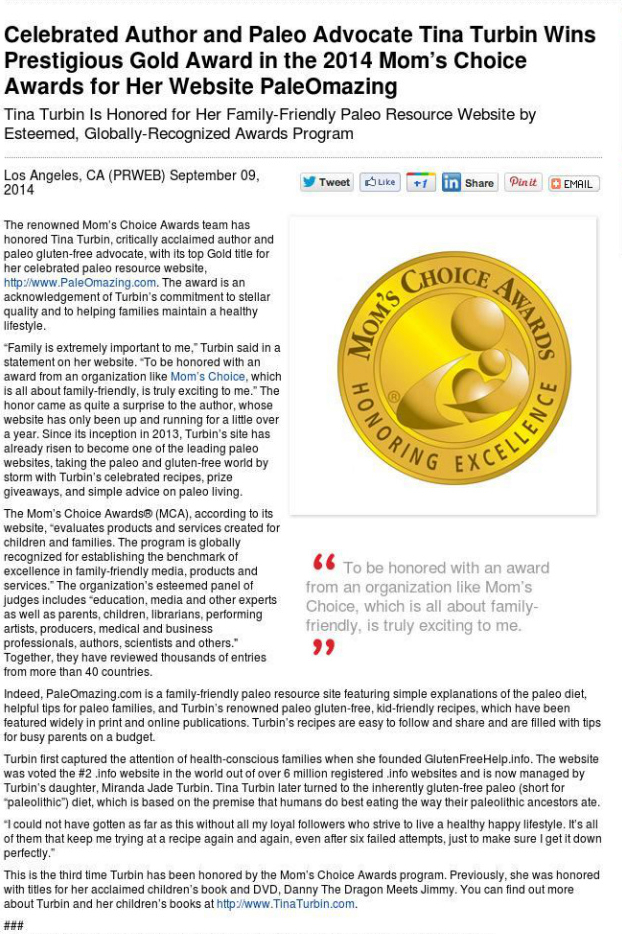 If you have any questions or suggestions just email me at Tina (at) Paleomazing.com.