The subject of palm oil has come up quite a bit recently. Palm oil is paleo-approved, rich in antioxidants and is a great source of Vitamin E. It is wonderful for paleo baking and cooking and a healthy addition to your diet. The debate arises, however, in regards to sustainability, particularly in relation to deforestation. So much debate has arisen that some paleo websites are even removing palm oil from their food lists.
It is true that much palm oil processing is leading to the destruction of natural habitats and is even threatening the extinction of orangutans. It is an important issue and one not to be ignored, which is why I am so pleased to have found Spectrum Palm Oil!
Rather than dismiss this wonderful ingredient completely, I did a little bit of homework and found that Spectrum Palm Oil is an ethical company with sustainable practices and is producing an amazing product in a way that we can all feel good about!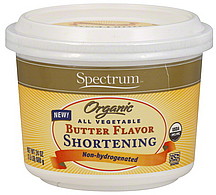 Spectrum Organics sources their palm oil from DAABON Organics, a sustainable, family-owned company. Viewing their company website, you will see much about their corporate responsibility and their stress on the importance of sustainability.  Their Department of Sustainability adopts the belief in "development that meets the needs of the present without compromising the ability of future generations to meet their own needs." Now that is something we can all get behind! And DAABON Organic backs up their talk with action. They are RSPO certified by the Roundtable on Sustainable Palm Oil. RSPO's mission is to "transform markets to make sustainable palm oil the norm".
Rest assured, Spectrum Organics is one company doing it right! I love what Spectrum Palm Oil does for my paleo recipes. I love that it is nutrient-rich and provides good, healthy fat. And I love that it is sustainable. All of these things are important to me and all of these things I get with Spectrum. It's okay to use palm oil again. Just use it sustainably.
If you have any questions, please email me. And as always, don't forget to check out my latest PaleOmazing giveaway featuring amazing paleo products!
Enjoy!
Refs:
(1) http://www.paleoplan.com/resources/paleo-plan-food-guide/
(2) http://www.saynotopalmoil.com/Whats_the_issue.php
If you have any questions or suggestions just email me at Tina (at) Paleomazing.com.