Spiralized recipes are all over these days. For a good reason too. Substitute your pasta for some spiralizer fun zucchini and "voila" you have a much healthier dinner. With healthy being a lasting trend it's no wonder these kinds of recipes (which just so happen to be paleo recipes!) and kitchen gadgets like the spiralizer from Caveman Kitchen are on the rise. Oh, did I mention, it makes your dishes look beautiful too?!
Caveman Kitchen came up with a very easy to use spiral vegetable cutter. It's small and compact too so it wont take up a lot of space. I am definitely pressed for kitchen space with all the gadgets I have collected over the years. Sometimes taking out my big hunky spiralizer is too much work; requires me to stand up on my kitchen stool, get up on my tippy toes and reach to the top of my pantry. All to just make myself some lunch. The Caveman Kitchen's spiral vegetable cutter takes the hassle out of cleaning a big machine. For your convenience, this spiral vegetable cutter comes with an easy to use brush for cleaning in all those hard to reach areas.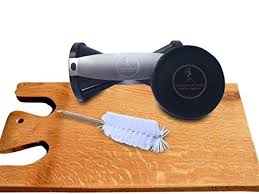 This spiralizer would make a great gift for someone trying to eat healthier or the friend who has just about everything. I like spiralizing vegetables to top off my salads for added appeal. This is suitable for carrots, zucchini, cucumbers, radishes and all kinds of firm vegetables. Can you just imagine how beautiful a plate would look with all those colors in nice thin strips? Deliciously appealing!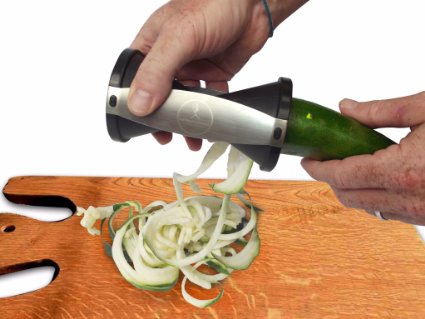 With this spiralizer you also get an eBook to help you along the way so you don't have to be a pro-chef to enjoy it. Definitely take advantage and check them out on Amazon. Let me know how it goes and do send me pictures of your beautiful, spiralized creations through my contact page.
If you have any questions or suggestions just email me at Tina (at) Paleomazing.com.