I was introduced to Chris Wallace, Chef and Creator of FlavorGod a few months ago. When I first tried his spices I was blown away. I am known to adore spices and make all sorts of Paleo and gluten-free sauces and toppings with any one of my "way too many" spices in my cabinets, BUT when I tried FlavorGod I was amazed at how the flavors of my meals came through. FlavorGod spices enhance my dishes, as opposed to taking over the dish like so many other spices and mixes do. I was thrilled to create my delicious "Tina and Flavor God's New Zealand Lamb Racks" recipe which I'm sharing below!
When I purchase grass-fed and finished beef, pork from humanely treated pigs, costly free-range eggs from humanely treated hens and fresh foul off the farm, I know I want to taste the flavors of what I purchased. I have always yearned for an option of seasonings that I did not have to mix myself, that "enhanced" the flavors I was going for and did not make my entire dish taste like "the seasoning". Not only has Chris's dream come true in his company goals, but my dream has come true. I now honestly have a source to get primal, gluten-free, low salt and truly delicious spices that enable me to cook and make my dishes taste incredible.
I am also very impressed with his personal batch mixing and tending to his clients with personal care to each and every batch. Chris is a one man show with a dream which has come into fruition with his hard work. Chris says, "My goal is to keep seasonings chemical and filler free, keeping low salt levels, and always staying true to the herbs and spices that I use. Sacrificing nutritional value has never been an option. The health of people and the foods we eat on a daily basis is what truly matters to me."
Chris, you are amazing and I am totally hooked and am totally purchasing more as gifts.
I also used FlavorGod Lemon and Garlic (check out flavorgod.com) this afternoon on top of my salad and then poured my salad dressing (rice wine vinegar and olive oil dressing) over that. It really gave my salad this amazingly light boost of flavor that just danced with joy in my mouth. OMG! I am really amazed at how versatile these spices are. Oh, try it on eggs too! You get the idea. Right!?
I love this rack of lamb recipe with Paleo Cauliflower Mashed Potatoes. Top the whole meal off with a to-die-for Raw Vanilla Cheezecake. That's a great meal!
Now don't forget to sign up for my Giveaways to win amazing gifts!
Print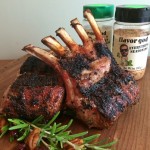 Tina and Flavor God's New Zealand Lamb Racks
---
Description
I prefer New Zealand lamb over American lamb. I find the flavor night and day different. FlavorGod has incredible gluten-free and fresh seasonings that compliment this lamb recipe beautifully.
---
1

pound rack of lamb – I only use New Zealand (

7

–

8

ribs)

1 tablespoon

FlavorGod Garlic Lovers Seasoning

1 tablespoon

FlavorGod Everything Seasoning

1

–

2

teaspoons salt, to taste
OPTIONAL: Rosemary sprig, dried cranberries and toasted maple pecans.
---
Instructions
Preheat your BBQ on high.
Dry your rack of lamb.
Sprinkle the spices on the rack.
Rub in and stab with a fork between ribs on both sides.
Place tin foil over the exposed ribs only (to prevent charring and burning)
BBQ for 4 minutes on top and 4 minutes on bottom.
BBQ another 3 minutes on the "bottom".
Remove from BBQ.
Let sit covered 4-6 minutes.
Serve with a fresh sprig of rosemary, cranberries and toasted maple pecans
Season to taste with salt as desired.
Enjoy!
---
If you have any questions or suggestions just email me at Tina (at) Paleomazing.com.