This is an amazing upside-down apple tartlets recipe contributed by Elana Amsterdam from her equally amazing cookbook, Paleo Cooking from Elana's Pantry. More of her paleo recipes can be found here and in her cookbook sold through all major book outlets
This is one primal dessert that you don't have to feel guilty about eating. There's a bit of prep involved but once you get to the end and try these delicious tartlets, you'll see it was well worth it.  Here's to healthy desserts!  Let me know how yours turn out!
Print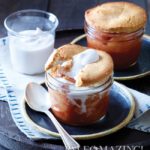 Upside-Down Apple Tartlets
---
Description
This is another amazing Paleo recipe contributed by Elana Amsterdam from her amazing cookbook, Paleo Cooking from Elana's Pantry. Enjoy!
---
Crust

2 cups

blanched almond flour

1/2 teaspoon

sea salt

1/4 cup

coconut oil, at room temperature

1/4 teaspoon

vanilla crème stevia
Filling

6

large apples, peeled, cored, and cut into

1/4

-inch slices

1 cup

apple juice

1 tablespoon

freshly squeezed lemon juice

2 tablespoons

arrowroot powder

1 tablespoon

ground cinnamon
Coconut Whipped Cream
NOTE: This dairy-free whipped cream recipe calls for full-fat canned coconut milk. The fat is what makes the recipe creamy and luscious; light coconut milk won't work and results in a watery mess.

1

(13-ounce) can Thai Kitchen coconut milk

1 tablespoon

honey

1 teaspoon

vanilla extract

5

drops vanilla crème stevia
Pinch of sea salt
---
Instructions
Preheat the oven to 350°F.
Place eight 1-cup wide-mouth Mason jars on a large baking sheet.
Crust
To make the crust, pulse together the almond flour and salt in a food processor.
Add the coconut oil and stevia.
Pulse until the mixture forms a ball.
Transfer the dough to a piece of parchment paper.
Place in the freezer for 20 minutes.
Filling
To make the filling, place the apples, apple juice, lemon juice, arrowroot powder, and cinnamon in a large bowl, and toss to combine.
Transfer the apples to the Mason jars so that each one is overfull.
Divide the remaining juice from the bottom of the bowl between the jars.
Remove the dough from the freezer, place between 2 pieces of parchment paper generously dusted with almond flour, and roll out the dough 1/4 inch thick.
Remove the top sheet of parchment. Using the top of a wide-mouth Mason jar, cut out 8 circles of dough and place one on top of each apple-filled Mason jar.
Bake for 40 to 50 minutes, until the juices are bubbling and the crust is golden brown.
Serve the tartlets hot out of the oven.
Coconut Whipped Cream
Place the can of coconut milk in the refrigerator at least 24 hours before making the whipped cream, so it is well chilled.
Chill a metal bowl in the freezer for 15 minutes.
Take the coconut milk out of the refrigerator and remove the lid.
Gently scoop out the coconut fat, placing it in the chilled bowl. Pour the remaining liquid into a glass jar and store in the refrigerator, saving it for another use.
Using a handheld blender, whip the coconut milk fat until light and fluffy, about 1 minute.
Whip in the honey, vanilla extract, stevia, and salt.
Use right away or store in a glass jar in the refrigerator for up to 24 hours.
Enjoy!
---
Paleo Cooking from Elana's Pantry , by Elana Amsterdam and published by 10 Speed Press, Berkley will be available wherever books are sold on June 18, 2013. Please check this out on Amazon now.
"Reprinted with permission from Paleo Cooking from Elana's Pantry: Gluten-Free, Grain-Free, Dairy-Free Recipes by Elana Amsterdam (Ten Speed Press, 2013). Photo Credit: Leigh Beisch."
If you have any questions or suggestions just email me at Tina (at) Paleomazing.com.