Yep, everyone loves pancake these days, especially Paleo ones like these fluffy paleo pancakes or waffles. There is something extremely nostalgic, warming and cozy about pancakes for breakfast. Don't you agree? Served with my killer Crustless Quiche, your taste buds will surely be pushed way over the top! Eaten alone you still are getting loads of protein and incredibly good fats and fiber too.
As most of you know I am 100% gluten free as I have to which you can read about here. I am not 100% STRICT Paleo yet I totally believe Paleo is an ideal template and starting point to fine tune the diet for one's own health. Honey and maple syrup were not "technically" available in that Era, the Paleolithic Era. I do fine with them both in limited and reasonable quantities, so no blood sugar issues here. We are all living in the 21st century and as a result we have some wonderful things to work with in our kitchens that I feel have health benefits and that help us all create some incredible recipes and flavors. I do not eat 3 desserts a day loaded with sugars, honeys, maple syrups or loaded with pure fruit juices. Heck no, I wouldn't feel as good as I do and I'd become a fat ass, which is just what us gals and guys (fat belly) do not want. So, I adapt my recipes to work, be healthy and I do feel desserts are totally fine in moderation . This is how I make Paleo fun, interesting and truly life changing as it changed by body and health dramatically. Paleo(ish) works for my family and I am able to help others adhere to finding how Paleo works for them. For example some bodies do very well with dairy and some do not. I do not. This can be proven by blood tests, if we get down to the nitty gritty.
OK, back to pancakes and waffles. I am also really into quick and easy, so I whip up a batch for breakfast at the last minute or if I have leftovers I simply warm them up as a dessert and have a couple of these babies topped with some of my easy glazed bananas (warm sliced bananas, butter or coconut oil in a pan then add cinnamon and maple syrup and OMG!) in front of a good movie. OK NOW I'M HUNGRY!
Anyhow, you can thin this recipe up a tad by adding a bit more liquid and you can use this very recipe for your waffle iron! Just be sure to always warm that waffle iron up the same way you need to for your pancakes, and get that oil heated AND ready to allow your batter to have its grand entrance. As always you will need to adjust your pan for every batch of pancakes and waffles. This is just the nature of cooking and being in touch with what you are cooking. As you add the batter, this simply lowers the heat a bit so you need to "fine tune" things as you are being the "chef" that you are. If you are new to cooking you will soon get the hang of it. If you are familiar or a pro, heck you know what I am talking about – so let's get cooking and eating!
Print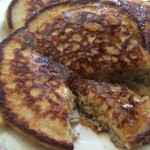 Fluffy Paleo Pancakes or Waffles
Author:

Category:

Breakfast, Snack or Dessert
---
Description
You can never have too many pancake (or waffle) recipes! These freeze beautifully and are great as leftovers! Just pop them in the oven to heat them up any time your heart desires.
---
3 cups

almond flour

1 tablespoon

tapioca flour

1 teaspoon

baking soda

1 teaspoon

salt

1/8

–

¼

cup honey

¼ cup

walnut oil

3

eggs, whipped
OPTIONAL: 1 teaspoon apple cider vinegar
Coconut oil for greasing pan or waffle iron
---
Instructions
Mix the flours and baking soda and salt and together.
In another bowl mix together the honey, oil, eggs and apple cider vinegar.
Combine the contents of the two bowls together.
Heat coconut oil in a pan.
Pour ¼ cup batter into pan and flip after bubbles form.
Continue to do this with all of the batter.
Cook until done.
Enjoy!
---
Notes
Thin the batter for your waffle iron a tad.
Be sure to heat your pan and oil or waffle iron and oil before you start each batch and adjust your heat during the cooking process accordingly.
If you have any questions or suggestions just email me at Tina (at) Paleomazing.com.