There isn't a day that goes by that most of us do not see some kind of chocolate. It is everywhere! The only problem I have with it is that so many chocolates these days are loaded with cane sugar, agave or just good, old white-bleached-to-death sugar. Well, my clean Dark Chocolate Paleo Ice Cream recipe below has been quite a hit, and there's no sugar required!
Before I embarked on the paleo diet (before that, I was off gluten, as I'm celiac), I used to justify eating chocolate often by thinking cane sugar was "natural," so why not? Ah, such memories.
Well, the truth is, it's very easy to make low-glycemic (which means it doesn't raise your blood sugar) and sugar-free chocolate without the notorious "fake" sugars and yet remain healthy. This is something challenging I love to work on in my kitchens. Many chocolate recipes are still loaded with quite a bit of honey, date sugar, etc. Some even contain cupfuls! It's fine now and then, but when you bite into something paleo, gluten-free and chocolatey that tastes delicious and is truly nutritious and isn't loaded with natural sugars like honey or date sugar to make it taste good, it's not overburdening the body with glucose. You'll feel better afterwards and even the next day.
I'm not a calorie-conscious person, but I can assure you that you calorie-counters out there will be pleasantly surprised by this paleo, gluten free, sugar-free and raw dark chocolate ice cream recipe below. AND all your taste testers in your home who don't give a hoot about calories or the paleo diet will appreciate this recipe. Everyone else who is reading this is obviously looking for a healthy version, so I hope this helps.
Keep your eyes open, and you can sign up for my Newsletter (sign up at the top of the page here and just enter your email address into the box) if you'd like to keep up-to-date on the latest and greatest when it comes to good paleo gluten-free food, mine and others.
Be sure to check out my chocolate cream-sicles too!
Print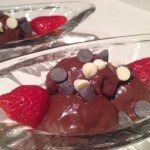 Dark Chocolate Paleo Ice Cream
---
Description
This ice cream is extremely easy to make, requires minimal ingredients, and is delicious and nutritious. You will also see me put these ingredients to use in a few additional future recipes that I'll be sharing.
---
I can chilled coconut cream (canned cream) or very cold coconut milk ( I used the cream this time)

½ cup

+ 1 tablespoon 100% pure (dark) chocolate (I used French company Valrhona. Incredible flavor and aroma!)

3 tablespoons

organic, unfiltered honey (melted, yet cooled down)

4

drops stevia glycerin, or to taste

6

drops chocolate stevia
---
Instructions
Mix all ingredients together with an electric mixer until well mixed, thicker and slightly frothy.
Add to your ice cream maker and follow manufacturer's directions. Mine was ready in about 10 minutes or less.
Eat right away.
You can place in your freezer but it will harden.
You can thaw out for about 20 minutes and it will be ready to eat.
I am pleased to report you can refrigerate it and it will remain fairly solid for many hours.
Enjoy!
---
If you have any questions or suggestions just email me at Tina (at) Paleomazing.com.