I am terribly excited to announce the release of my eBook: How Grains Affect Mental Clarity and Your Brain! It covers the vital and informative topic of the effects that grains have on our brains and mental clarity.
This eBook is really loaded with information on understanding how to keep our most valuable organ in good health for now and in the future — securing now a healthy, high-quality longevity. How Grains Affect Mental Clarity and Your Brain is for you and those you love and care about. The PR Group East-West released a beautiful press release (below) on my eBook.
I have been releasing a number of eBooks which are very exciting–over 5 books out already this year! And yes, there's more coming:
This eBook aligns 100% with the writings of major figures in the world of nutrition such as Dr. David Perlmutter, neurologist and internationally best-selling author of Grain Brain, cardiologist Dr. William Davis, author of the bestseller Wheat Belly, and paleo advocate Chris Kresser, author of the top selling book, The Paleo Code. These are all brilliant men who are at the forefront of their fields and really making great strides to educate us toward leading a life without the pains and ills we have seen ever increasing over the last several decades.
All this research and knowledge is invaluable and my paleo recipes also align to the standards these men set forth in their writing and interviews.
The effects of high carbs and sugars are very real. They exist and are unfortunately rampant in society at large. It is important to educate ourselves on the effects of grains on brain and mental function, aging and the overall effect of grains on our health.
How Grains Affect Mental Clarity and Your Brain is for you, those you love and care about — from me.
Please check out more about this fun and educational eBook by reading the below Press Release all about it: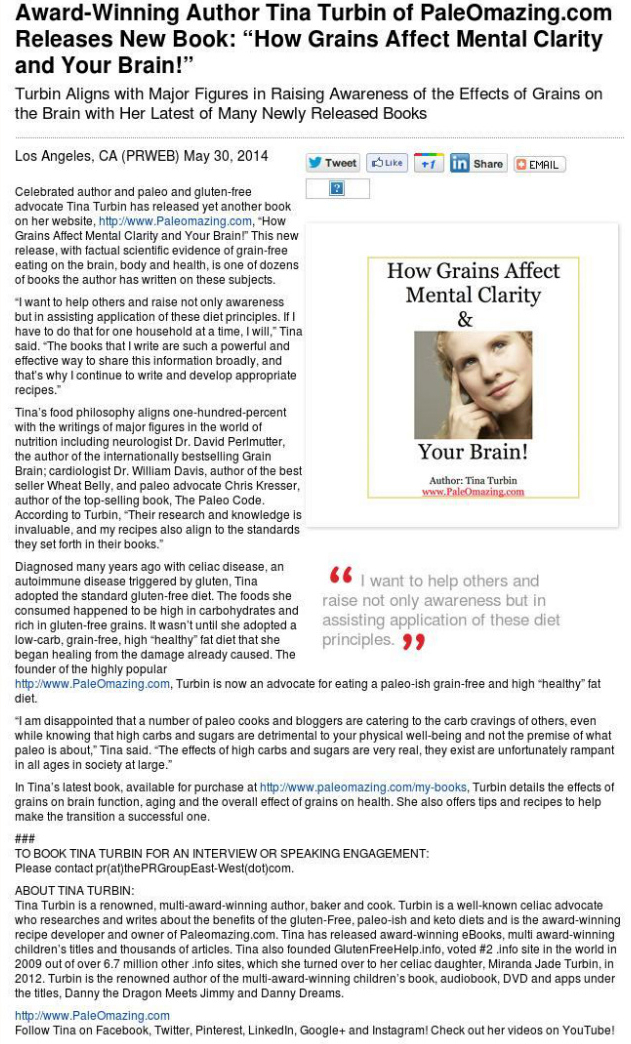 If you have any questions or suggestions just email me at Tina (at) Paleomazing.com.