I am always developing recipes and finding new ways to make my favorite dishes paleo and healthier – similar to the deliciously moist paleo banana bread recipe which you'll find below. I came across a healthier, paleo friendly sweetener called ZenSweet and wanted to take a break to try it out. For the most part, 1 cup of ZenSweet is stated to replace 1 cup of sugar in a recipe and it allows you to re-create the recipe with a healthier twist. So, with this in mind I said I'd give it a go!
I am excited when I find a company that is more health inclined than usual and one that sees the importance of living a healthier lifestyle. In 2012, the ZenSweet founders Corey Winer & Michelle Francis had a mission to bring delicious healthy food to everyone. After "multiple sensitivities" was the diagnosis for Michelle, and they both knew they were not feeling as healthy as they should, they made a drastic change and cut out sugar; mostly ate anti-inflammatory foods and started to feel way better. They both saw the importance of a low-glycemic diet, but weren't finding what they needed in order to accomplish their own health goals and sincere desire to help others, which resulted in the evolution of their company: Habit Foods and The ZenSweet Company. They developed their own recipes using ZenSweet. This product even works for diabetics!
The ingredients in ZenSweet are nature-provided. This means that the sweetener is well digested and tolerated by most. Even with my sensitive stomach, which is something I constantly have to watch, I had no issues. On their website it states this about any side effects: "The ingredients of ZenSweet, erythritol & polydextrose are completely safe and efficiently and effectively digested in the human body. Erythritol is a very small molecule and 90 percent is absorbed in the small intestine and for the most part excreted unchanged in the urine. The quality of easy digestion makes erythritol unique among the sugar alcohols. Polydextrose digests like other soluble fibers and can lead to a healthier digestive tract. Since polydextrose is not digested in the upper GI tract, and partially ferments in the lower GI tract, it promotes healthy intestinal bacteria in much the same way as natural fibers. If you feel mild digestive activity, it is your body processing healthy fiber".
ZenSweet is completely natural and zero glycemic. It is low calorie and truly is a healthy alternative. I also tested the substitution for brown sugar and how that works and found that I can add 1 teaspoon of molasses to a cup of ZenSweet and it works pretty much the same; although I did taste a hint of the molasses. It all depends upon the recipe in the end. I am still testing it out in new recipes. I will be linking new recipes to this ZenSweet review as they are published on my blog and weekly RSS feed (sign up at the top right box located at the top of this page).
I'm really enjoying ZenSweet and the use of it in my new recipes (you're going to love the almond flour banana bread recipe below!) and the development of older recipes with a healthier twist. The lack of sugar and spiked blood sugar is the key behind ZenSweet as an alternative sweetener. This I am VERY into and support.
I can definitely recommend ZenSweet. I think you will really enjoy it if you give it a try. It could help either you, a friend or a family member. Please tell me what you think!
Print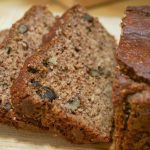 ---
Description
I am always developing recipes and finding new ways to make my favorite dishes into healthier, paleo versions. I came across a healthier, paleo-friendly sweetener called ZenSweet and wanted to take a break to tell you all about it. I'm also happy to share a deliciously moist almond flour based banana bread recipe using ZenSweet which you'll find below. This was contributed by Michelle Francis of the ZenSweet Company. Be sure to email her at ZenSweetCo@gmail.com if you have any questions about it! The website is: www.zensweet.com.
---
2 1/2 cups

almond meal or almond flour

3

bananas, mashed

3

eggs

3/4 cup

ZenSweet

1/4 cup

organic whole milk Greek yogurt

1 1/2 teaspoons

ground cinnamon

1/4 teaspoon

nutmeg

1/2 teaspoon

sea salt

1 teaspoon

baking soda

1 teaspoon

vanilla extract
OPTIONAL: 1/4 cup chopped walnuts
---
Instructions
Preheat oven to 350F degrees.
Grease a 9×5" loaf pan with butter or coconut oil or line it with parchment paper.
In a large bowl place together the bananas, ZenSweet and other wet ingredients including your eggs, greek yogurt, and vanilla as well as the cinnamon and nutmeg.
Use an immersion blender or hand held mixer to blend all of the wet ingredients together.
Add the almond meal/flour and baking soda to the banana mixture.
Stir well with a spoon to combine.
If you'd like, gently fold in a ¼ cup of chopped walnuts.
Pour the batter into your prepared loaf pan and bake for 55-60 minutes until the center is firm. You don't want to over bake the bread, but after making this recipe a few times with great success, I would suggest 60 minutes exactly.
Let the banana bread sit in the pan to cool for 10-15 minutes before removing.
Enjoy!
---
If you have any questions or suggestions just email me at Tina (at) Paleomazing.com.