One cannot ask for anything better than fresh fruit from off a tree, dipped in homemade sugar-free dark chocolate. Now that is a combo worth raving about and I truly believe this simple recipe for paleo dark chocolate dipped peaches and apricots is one you will enjoy as much as I enjoyed working on it, testing it and eating it. Delicious!
This treat/dessert is healthy and loaded with nutrients and antioxidants for all ages. Chocolate recipes are a favorite of mine and a lot has to do with the immensely positive healthy benefits in cacao. I tend to include cacao in many of my recipes with the hope of sharing its wealth of benefits to one's health.
This recipe is really easy and remember, the fresher the fruit the better your outcome. You can't get fresh peaches? Try another fruit! Simple. I have also made this with dried fruits like my homemade dried apricots, which are delicious as well. If you love healthy desserts overall you may enjoy my eBook: Decadent Chocolate and Cacao Recipes and Delights.
Speaking of healthy chocolate recipes, check out my interview with Adriana Harlan, author of Living Healthy with Chocolate!
Print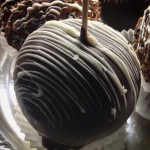 Paleo Peach Dipped Chocolates
---
Description
One cannot ask for anything better than fresh fruit from off a tree, dipped in homemade sugar-free dark chocolate. This is a healthy snack or dessert loaded with nutrients and antioxidants for all ages.
---
5

small perfectly round RIPE peaches and/or apricots – refrigerated (cold)
Lollipop sticks
Parchment paper

4

fresh strawberries – optional (see directions) – refrigerated (cold)
---
Instructions
Line a cookie sheet that will fit in your freezer with parchment paper.
Place your Paleo Homemade Dark Chocolate Dipping sauce in a shallow bowl with a fairly steep edge. Be sure to make plenty for the amount of fruit you are using.
It should be fluid and at least room temperature.
Gently cut a small hole in bottom of fruit to remove the seed.
Use one of the "extra" fruits to fill the hole in bottom with some of the cut piece of fruit or fill with a suitable piece of strawberry.
Push the lollipop stick in the peach or apricot top and be sure to hold the bottom so the "inside" fruit does not push out.
Gently hold the stick and fruit, rolling it gently around in the Chocolate Sauce.
Immediately place the fruit on the parchment paper.
Do this with each fruit.
Place in freezer for 3-5 minutes.
Remove the fruit from the freezer and roll them once again in the Chocolate Sauce and back on the parchment and back in the freezer. Allowing 3-5 minutes between each "dipping".
I dipped mine 5 times for a thicker coating.
The more you dip the thicker the layers of chocolate coating.
After the last dipping, you may keep the fruit in the freezer 8-10 minutes.
Serve cold immediately.
You gently and simply trim the chocolate off the bottom with a small knife allowing the flat bottom of chocolate to remain so they will sit upright if you so desire.
Save the extra chocolate and the "trimmings" for future use with recipes as a twist on my Chocolate Bark with a delicious sugar-free option.
If you are making these ahead of time, place them in the back of the refrigerator until you are ready to serve.
Enjoy!
---
Notes
Do not leave in the freezer for too long.
If it is warm outside then keep them refrigerated.
If you have any questions or suggestions just email me at Tina (at) Paleomazing.com.