Ever since going paleo, the all-American hamburger has never tasted better to me! Grass-fed beef is a lot different from grain-fed beef, and it can take some getting used to! And boy, is it good for you. Not only is it leaner, but it's full of Omega-3 "good" fats. Here's a clean and healthy burger you don't have to feel bad about eating! (You can learn more about the importance of Omega-3s in many of my paleo and gluten free eBooks.)  And of course below I share with you my delicious paleo hamburger featuring gluten-free Cajun's Choice seasoning. Yum!
You can add all sorts of yummy stuff on top. I personally love bacon, avocado, onions, tomato, and some homemade aioli. What a combination! I have some amazing paleo recipes for condiments that you might love to top yours with. These red kale chips also go great with it.
I love to bite into a piled-high paleo burger after a major workout, be it a CrossFit session, a swim, a run, or—my favorite—hiking in the California hillsides. That's when I feel like I deserve a tasty burger and am yearning for the protein and the good, healthy fats.
Serve these at a barbecue with a Paleo Fruit Platter.These are also terrific as leftovers. I've also made them into little mini-sliders and they get gobbled up right off the grill! Sometimes I enjoy them the next day cold with a little side salad and fresh horseradish mustard. Oh gosh, now I'm salivating—seriously.
Keep in mind you can add as much of the spice as you prefer. Enjoy!
Print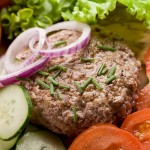 Paleo Hamburger, Gluten-Free Cajun's Choice
---
Description
This particular paleo hamburger recipe is always a huge hit. The secret? Cajun's Choice blackened seasoning, which is to-die-for! And no, I don't have any stock in this company 🙂
---
Enough ground beef for 4 medium sized hamburgers

¼

onion chopped up very small.

2

–

3

tablespoons (depending on how spicy you like your food) Cajun's Choice blackened spice
---
Instructions
Place your meat into a mixing bowl (make sure your meat isn't frozen at all!).
Add onion and mix well.
Add all of the Cajun's choice blackened seasoning and mix well.
Divide the meat evenly and make 4 round burgers. Make sure the burgers aren't too thick or else you will have a hard time cooking them. When you cook burgers they get thicker naturally so you can make them pretty thin.
Heat about 1 tablespoon of olive oil in a pan over medium heat.
Once oil is warm add all hamburgers.
Cook for 2 min on medium heat on 1st side.
Flip all burgers onto the other side and cook on medium heat for another 2 minutes.
After this turn your heat down to low and let the burgers cook through.
Cooking the burgers on high on both sides will trap in the flavor and make your burgers juicier.
If you are really into spicy food like me you can sprinkle some more of the blackened spice on top of the burgers after you flip them onto the second side.
Depending on how thick your burgers are and how you like your meat (medium, medium rare, etc) the time will vary.
If you are new to cooking and aren't sure, take one of the burgers off onto a plate or cutting board and cut into it from the center to one of the sides. this way you can check to see how pink it is in the inside.
Make sure all your burgers are the same thickness so they cook evenly.
Enjoy!
---
If you have any questions or suggestions just email me at Tina (at) Paleomazing.com.