When I was first contacted by Dawn, co-owner of Paleo Meals To Go, I thought the idea for the concept was brilliant. Being paleo means living an active lifestyle. Sometimes this makes adhering to the paleo diet more challenging. What happens when you are out camping, backpacking or hiking? How can you ensure that you are eating your good-for-you paleo-approved meals when your situation makes it difficult to do so? Dawn told me that her son had this very problem. As a Crossfit athlete and outdoors enthusiast, he found it difficult to stick to his paleo diet while on his adventures. Thus Paleo Meals To Go was born!
Freeze-dried paleo dishes for breakfast, lunch or dinner. Just add hot water to these convenient and healthy little packets, wait a few moments and voila! You will have a warm, tasty paleo meal ready to enjoy.
So why freeze-dried and not just dehydrated? What is the difference? Well, according to the Paleo Meals To Go website, freeze-dried foods look and taste fresher and maintain their nutritional content better. Dehydrating causes food to shrink and shrivel while freeze-drying maintains the same food fibers and moisture channels. You will see the difference once you add water and the moisture returns to the food.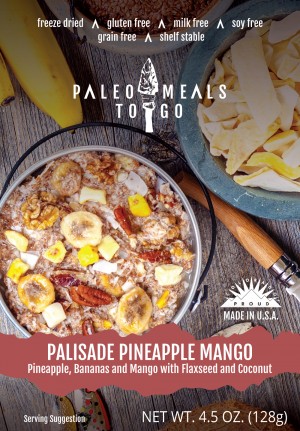 Also, freeze-dried foods weigh less than fresh foods and stay fresh longer. This is because freeze-dried foods have had 98% of their water removed. We all know how much water can weigh! This means you can pack lighter, saving precious space and weight for other things like sleeping bags and tents! Paleo Meals To Go are packaged without most of their water or oxygen, two of the major reasons for food deterioration. This is why they stay fresher longer, which is perfect for your outdoor trips where no refrigeration is available. These would also be a great addition to an emergency kit!
Currently the company offers meals:
Cliffside Coconut Berry
Palisade Pineapple Mango
Summit Savory Chicken
Mountain Beef Stew
My friends helped me test these and very much enjoyed the Palisade Pineapple Mango with mango, pineapple and banana flavors with added walnuts and pecans for that additional protein and healthy fat. One friend said he would eat this one as a standard breakfast option! It could also be good with a little bit of nut milk added to it, as I am an almond milk fan.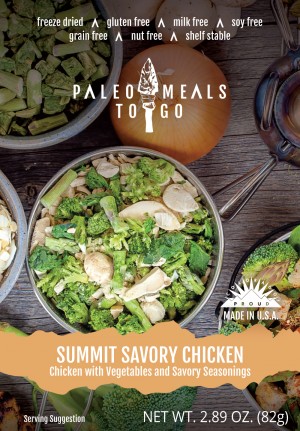 The Summit Savory Chicken dish, though a little on the dry side, improved with the little added sea salt (pack) which is included with your meal purchase. While I did not test the other two, they sound as paleo-pleasing as the others and could be an option in place of a beef jerky or handful of trail mix.
Find out more about these freeze-dried meals on PaleoMealsToGo.com. I am happy to know that Paleo Meals To Go is out there serving a very important role in helping to maintain the paleo lifestyle. Definitely a great contribution to the more active and health-inclined community!
If you're inspired to learn even more about the Paleo diet and its health benefits, and how to curb cravings or improve stamina, be sure to visit my eBook page.  Several eBooks are available about this topic.
Enjoy!
If you have any questions or suggestions just email me at Tina (at) Paleomazing.com.