I really like taking items and changing them around a bit. Eating breakfast foods for lunch; making dinner items into a breakfast meal or even finding ways to alter something into a whole new item. It's really one of the great things about the paleo lifestyle. Pancakes, sure they can be made into all sorts of shapes and sizes. So, what about popovers?  Well get ready, because these paleo popovers are totally amazing!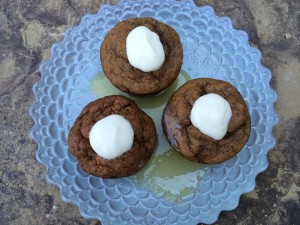 Did I say popovers? Oh yes indeed. These are easy, fun, perfect for on the go and if you have your hands full with kids running around you will seriously appreciate this paleo recipe. No more burning ½ the pancakes because you were chatting on the phone, rushing to the loo or handling kids. Just pop these in the oven and by the time you have cleaned up they will be hot and ready to eat up or heat up later, or eat cold.
I used a grain-free mix from the company, Almond Glory. They are located in Los Angeles but I am told they ship all over and ship easily. I love working with this mix for a change.
Well, now I am heading back to another popover for me! Enjoy these, and for some great ideas for dinner food for breakfast take a look at a few of these recipes. Now check out my giveaways page to see what fun things I have going on now!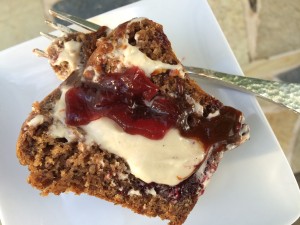 Print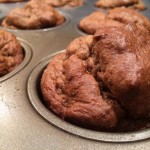 Paleo Popovers – Totally Amazing!
---
Description
This recipe is simple to make and can be mastered by anyone. Great for a quick on-the-go breakfast and perfect to make ahead and eat later or the next day.
---
6

egg whites

1 cup

almond milk (or regular milk) minus 1 tablespoon

1 tablespoon

melted butter

1 1/2 tablespoons

distilled white vinegar

1 tablespoon

vanilla

½ cup

walnut oil

3 ½ cups

Almond Glory Mix (a grain-free mix you can find on the internet)

1 ¼ cups

sugar of choice (I use

1 cup

of date sugar and

¼ cup

of brown Lakanto)

1 teaspoon

baking soda
OPTIONAL: ghee, butter or coconut cream topping
---
Instructions
Preheat oven to 350°F.
Mix egg whites, milk, butter, vinegar, vanilla and oil together in a bowl – let sit and curdle.
In a separate bowl thoroughly mix the Almond Glory mix, sugar and baking soda together.
Add the curdled egg mixture to the dry mixture.
Mix until the batter is thick and pulls away from the sides of the bowl (do not over mix).
Spoon the batter into your muffin tins lined with lightly sprayed paper liners until ½ to 2/3 full.
Bake at 350°F for 20 to 25 minutes or until a toothpick inserted in the center comes out clean.
Let sit for 5 minutes at least.
Cool or eat semi-warm.
If you wish you may serve these with ghee, melted butter, jams, preserves or my coconut cream topping.
Enjoy!
---
If you have any questions or suggestions just email me at Tina (at) Paleomazing.com.