Recently I've been on a craze of making fast, easy recipes for an active lifestyle. I am listening to those who contact me and reach out to me with concerns about time. Well, this paleo raspberry mousse is a gluten free treat that can serve as a simple dessert, snack, breakfast or even a meal in itself. This is so easy that even the kids in the house can have fun making this one, plus you can rest assured that everyone is eating a healthy treat loaded with antioxidants and good fats.
I'm not perfect and not on a true paleo diet 100% of the time, and I haven't committed to doing so either. I read that the majority of those on a paleo diet are 80% on and 20% off. (You can read more about the different types of paleo diets on my Which Paleo Diet page.) Well, I think I'm about 95% – 5%, so I'm pretty happy about my progress. I HAVE to be off gluten for health reasons, so paleo was an easy transition for me.
I'm celiac (I have an autoimmune disease that means I CANNOT have gluten.) I was on a gluten-free diet for a number of years and worked in this arena extensively as a writer and radio host, etc. I had a real hidden "secret"—I was not better on the gluten-free diet. I knew I didn't feel my best. Eventually I found the paleo diet and really understood what is meant by the paleo lifestyle. Okay, if you have any questions about the paleo diet, please don't hesitate to ask via my Contact page. The paleo diet has helped me in so many ways!
OK so back to this recipe. I develop recipes, I cook, I eat and I love food. I'm a dedicated foodie, that's for sure. I assume you are too, or you wouldn't be here. I love a good treat and I love to "graze," as they call it—I call it snacking! It's even better when I can snack on something that tastes REALLY delicious and is nutritious too.
I love cold and creamy in my mouth. I love fruit, but not too much that it's overbearing or so much that it feels like sugar in my body. This recipe provides a perfect balance. I hope you enjoy it! There are a variety of ways to use and make it, which I'll be introducing over the next few months.
Print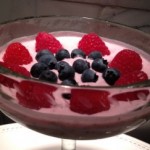 ---
Description
This Paleo Raspberry Mousse is a nutritious treat jam-packed with antioxidants and loaded with good fats. Your cells will be humming! No sugar blues, no bellyaches and no fat on the hips (yay for us ladies!) and your energy is kept stable. I really have to come up with a dessert that burns all the fat off the hips, and then I will invite you all to my kitchen and we will have a REAL party!
---
1

–

½

heaping cups of fresh or frozen raspberries

½ teaspoon

lemon juice

1

can COLD coconut cream

1 teaspoon

vanilla pod powder or extract

3

heaping tablespoons pure organic honey, or to taste

1 teaspoon

lemon juice

1 tablespoon

+

1 teaspoon

Knox Gelatin
OPTIONAL: I added 2 tablespoons fresh beet juice for color but you may use nothing or you may use any fresh juice that's a dark red color (like cherry, pomegranate, etc.).
---
Instructions
Blend all ingredients together (except for the gelatin) only for a short bit just until combined. Use a blender or a Vitamix (I am not sure if this will work in an immersion blender – sorry).
Let the mixture sit.
Dissolve your Knox Gelatin in ⅛ cup boiling water.
Let cool slightly.
Add the dissolved and slightly cooled gelatin to your blender.
Whip like mad until all blended and slightly fluffy. Do not over blend.
Pour into fancy cups, glasses or molds and refrigerate for approximately 20-30 minutes in the back of your fridge (the coldest part) immediately.
Take out and add your favorite toppings.
Enjoy!
---
If you have any questions or suggestions just email me at Tina (at) Paleomazing.com.