Do you ever feel like you just need a vacation? Well, I can't give you a vacation, but I can give you a recipe that will make you feel as if you were on one. This recipe is a very light and clean tasting paleo dessert, which kids and adults alike will enjoy. I had a great time creating the creamy outcome I was going for in this latest paleo tapioca pudding. This recipe is sans any sugar or eggs and you'd never even know it!
Tapioca pudding is a favorite dessert of mine from when I was a kid and I've only grown to love it more as time goes by. However, now that I live a paleo lifestyle, being able to recreate it without some of the allergens that many of my visitors have, such as to eggs, was a special quest for me. I receive many requests to make altered paleo recipes based on various diets and the adaptations people are on these days. I just love it! We are all, each one of us, "customizing" paleo for our individual needs. If you are not, then you should be! If you need any help just ask me or take a gander at my books.
Paleo is for the individual and that is why this recipe is egg free. There are some people that are grain-free, legume-free, gluten free, eating organic, non GMO and grass fed meats etc., but they also may have a current reaction or allergy to eggs. This is a prime example of one way the paleo diet is not a regiment that must be strictly adhered to. It is solely a base with which to start a journey to clean up your health, diet and lifestyle.
So, for everyone who loves a good tapioca pudding, this recipe is for you. No matter if you live an active lifestyle, are on the paleo diet, or just want a healthy treat, anyone can enjoy this paleo friendly recipe. Once your dessert is ready, curl up with your favorite cozy blanket and dive right in!
Print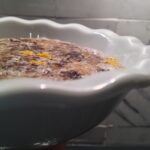 ---
Description
Do you ever feel like you just need a vacation? Well, I can't give you a vacation, but I can give you a recipe that will make you feel as if you were on one.
---
4 servings
2 ounces small pearl tapioca
2 cups coconut milk (not cream) – I used unsweetened, boxed, pourable, drinkable coconut milk.
¼ teaspoon salt
1 Tablespoon honey
1 teaspoon pure vanilla extract
Optional: Pinch ground vanilla beans
---
Instructions
Place tapioca and coconut milk in a medium-sized saucepan and let the pearls soak for 25-30 minutes.
Add the salt to the tapioca and milk, and gently heat over medium until it simmers.
Reduce heat to low and let simmer very gently for 10-15 minutes stirring often so the tapioca does not stick! The mixture will thicken and pearls will become transparent.
Once done, remove from heat and stir in honey, and extract.
Pour mixture into 4 cups and place in the refrigerator until chilled, approximately 2 hours. The pudding thickens more with refrigeration.
Serve as-is or with a pinch of ground vanilla beans on top for looks and flavor.
Enjoy!
---
Notes
On step 4 you can also add a pinch of ground vanilla bean but it will slightly darken your pudding.
Pudding can last longer if covered in the frig.
I used boxed, pourable, drinkable coconut milk sold in all stores.
If you have any questions or suggestions just email me at Tina (at) Paleomazing.com.