I always thought all organic (non-GMO) coconut oil was basically the same. It all looked the same to me except the ones that add coconut meat, or less of this and more of that. I have been purchasing and using a variety of coconut oils for a number of years since being and cooking and baking gluten free and eventually paleo, but none of them come close to Skinny Coconut Oil!
My eyes have recently widened to the REAL world of coconut oil by two interesting brothers, Matt and Luke. They have shared quite a bit about the processing of their coconut oil and what clean pure coconut oil is, and WHY the Skinny Coconut Oil looks as clear as the purest cleanest water that I have ever seen. (You should see our home water system—think major! Hubby went a little overboard!) 🙂 I hope you get the idea.
OK, well get this! Skinny Coconut Oil is a small batch coconut oil made with the Nutralock System™ (see below). Skinny Coconut Oil is never heated above room temperature (securing natural enzymes and nutrients) and goes through a slow manufacturing process to ensure their expected quality remains tops. According to them this process takes about 3x as long as other processes used and requires about double the coconuts needed to fill their 16.9 oz. jars, but they guarantee we will feel, smell, and taste a difference. YES, I CAN SURE ATTEST TO THIS! It is 100% coconut oil, comprised of fats – medium chain fatty acids (MCFA). The good stuff.
Of course there are many recipes I've created which incorporate coconut oil… like my Paleo Butterscotch Sauce or my Raw Paleo Apple Pie. Not to mention all of the many recipes that require cooking oil or oil to grease the pan. Skinny is a raw coconut oil that should not be heated though, so save your money.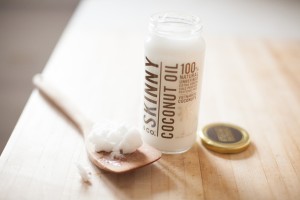 Most coconut oils have that sort of rough texture, cracks within the jar, a bleached white color and a smell. Skinny Coconut Oil has a very light fragrance, smooth texture and a creamy white color just like the meat within mature coconuts. When it settles out at room temperature, it is as clear as clear can get. They said, "Tina, once you try our Skinny Coconut Oil you will never want another coconut oil ever again, and we guarantee it." I have to say this is the best I have ever had – really! I never will say a company has THE BEST, but so far this is the TOPS in coconut oil!
OK, now about their processing: What is the Skinny Coconut Oil's Nutralock System™?
Many other coconut oils claim to be cold-pressed, but Skinny discovered a secret about other cold-pressed coconut oil that they say these companies don't want us to know. Most "cold" pressed coconut oil is actually heated up to 120 degrees! While kept in an "air conditioned" environment to reduce heat, the friction created from the centrifuged process still raises the temperature of the coconut oil above what is considered "raw" (115°F).
So for the raw foodists, according to Skinny, they finally have a truly raw, cold-pressed coconut oil that is "slow-pressed" and never heated. They say their Nutralock System™ uses a low-friction air jack to de-humidify and extract the extra virgin coconut oil at room temperature. The oil is then filtered to remove impurities down to 5 microns leaving it white as snow, smooth, and eliminating the smoky nutty smell that some coconut oils can have when they are heated. They have really done their homework.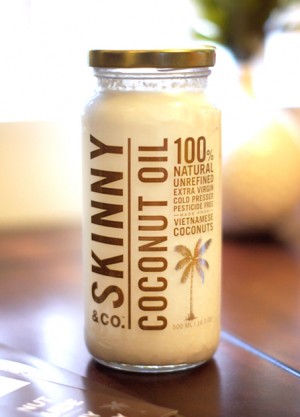 Skinny Coconut Oil is extra virgin, 100% pesticide-free, an all-natural, raw coconut oil. It is cold-pressed at room temperatures below 115°F and is suitable for raw diets. Most other "virgin coconut oils" are expeller-pressed or centrifuge-processed at temperatures above 115°F making the nutrient content of these coconut oils poor. Not all cold-pressed coconut oil can be classed as raw coconut oil, but Skinny Coconut Oil with its Nutralock System™ can be labeled raw.
How did two brothers get interested in coconut oil and all these processing details, besides the health properties? That was my question exactly. They have their own story to share at their website (link is provided at the end of this review).
So what can you do with raw coconut? Anything and everything you can with any coconut oil, but do not waste your money heating this up. Because it tastes better in the state it is in, it will make whatever you are making taste better. I should say purer. That's what it did for my food and recipes.
I don't eat 100% raw food but I certainly eat about 40% raw and I prepare many raw foods and desserts, which I will use Skinny Coconut Oil in as often as I can. I also lightly steam many of my vegetables to minimize the fiber to make the digestion easier for my body.
Another use for coconut oil, as you may have heard is for oil pulling, a practice similar to gargling with mouthwash. You can read more about oil pulling in my interview with Skinny & Company on question number 9.
According to Skinny Coconut Oil's company representative their Skinny oil was the only coconut oil to be represented at the American Dental Association Conference. "The reason we are the ONLY choice in oil pulling is because we are the only alkaline coconut oil in the world. On the pH scale, Skinny tests at a 7.8 (alkaline), whereas our competitors (Nutiva, Spectrum, Tropical Traditions and Kelapo) are testing at a 3.5 – 5.5 (acidic). Needless to say, acidic oil harms enamel – making it imperative to oil pull exclusively with Skinny&Co. Coconut Oil."
Well, I sure hope this was enlightening for you. It was for me and is really worth trying.
You can purchase Skinny Coconut Oil through their website at SkinnyCoconutOil.com. Enjoy, and check out my giveaway page to see what other great products and books I have available to give away. I always love giving away the wonderful things I discover and love!
Also check out my interviews with Skinny Coconut Oil:
– What We Need to Know About 100% Raw Coconut Oil – Part 1
– What Makes Raw Coconut Oil Better? Part 2 – Part 2
– The Amazing Benefits of Raw Coconut Oil – Part 3
If you have any questions or suggestions just email me at Tina (at) Paleomazing.com.