Raw is better when it comes to coconuts and that is why I wanted to get the word out and educate not only myself but all of you on what is the real truth about coconut oils, and what we need to know about 100% raw coconut oil specifically. Many of us are using it in our recipes (I use it liberally in my paleo meals!) and in our daily diets so it is optimum that we learn what is best for our bodies.
The majority of coconut oils on the market claim to be "cold pressed," but are actually heated prior to the pressing process. This extracts more oil from each individual coconut, yet raises the temperature over 120˚F and destroys nutritional value. I saw and smelled a major difference between Skinny Coconut Oil and the many others I had in my kitchen. This really got me very curious after I decided to write my own originated coconut oil review on the company and their oil.
I reached out to the company to see if there was any interest in working with me to educate the public on this very topic. Well I need not say more! Let's get going and learn some things:
1. Skinny Coconut Oil produces amazing, clean coconut oil. I was very impressed with it. I hear it all started with a trip through Southeast Asia. How was the company started?
Southeast Asia it was, actually in a small Vietnamese Province, Ben Tre. Our founders, Matt & Luke Geddie, were backpacking across the country and found lush jungles of coconut palms. While in the province, Matt & Luke came across our engineer (or coconut genius) Tan. Tan had developed a way to extract coconut oil without heating the coconut meat, a process unlike any other used in the industry. So, the brothers saw an opportunity to start a business. Matt returned home to form Skinny & Co. with his mother, Joy Reese, while Luke stayed in Vietnam to oversee operations and manufacturing of the oil.
2. Tell me a little about Skinny Coconut Oil. Who are Luke and Matt Geddie and why did they decide to start the Skinny Coconut Oil company?
Matt & Luke Geddie were entrepreneurs from a young age. Luke tried to sell rocks (yes, rocks) door-to-door as a child, using his well-known grandfather as leverage.  Matt made and sold puka shell necklaces during their craze in the 90s. It's safe to say business was in their blood.
Health has always been key to the Geddie family. Instilled by their mother Joy, who is now pursuing her Board Certified Natural Medial Doctors License (NMD), the brothers are familiar with the natural medicine side of things. So, when an opportunity arose not only to start a business, but also to aid in the health of their consumers, it was obvious the brothers couldn't pass it up.
Skinny just completed its first year and is going places. All the hard work put forth by the family is beginning to pay off, and the health industry is beginning to recognize it.
Skinny is the only coconut oil recommended by the Deepak Chopra Wellness Center, is contracted by the United States Military and was just featured at the Emmy Awards.
3. Who is Tan and why is he called the "coconut genius"?
Tan is our coconut engineer. He is the man who had the original idea for our patent-pending Nutralock System™. Tan was an engineer for Lockheed Martin for over 30 years manufacturing airplane parts, and is responsible for numerous patents.
Tan was born in Vietnam and saw the benefits of a coconut-rich diet at an early age.  He wanted to develop a way to get the numerous health benefits of the coconut fruit to the western countries. So, he came up with coconut oil. Not just any coconut oil, though, he developed a way to extract it without adulterating it.
By exchanging cool, dry air heat, Tan was able to craft the only 100% raw coconut oil in the world.
4. Your coconut oil is 100% raw. Can you touch a little bit on how coconut oil can be processed raw?
As I mentioned above, to keep a coconut oil raw, you have to adhere to raw food standards. This is anything cooked under 104°F.
Skinny is never heated over 100°F, the only producer in the coconut oil industry adhering to true raw standards. Coconut oil is generally produced using two processes, Expeller Pressing and Centrifuging. Producers using these processes claim to be "raw" and "never heated", but at some point in the process the extraction is heated, we've found even up to 470°F.
The Nutralock System™ is more than just a machine; it's the entire process. From our award-winning coconuts to our one-of-a-kind extraction, we are committed to crafting the purest products available.
5. Now where does your coconut oil come from and where is the Skinny Coconut Oil facility located?
Our coconut oil comes from Ben Tre, Vietnam, a province internationally recognized with the "Tree of Life" award* for the quality of its coconuts.
Unlike most producers who source coconuts from plantations (coconut tree farms), Skinny's coconuts are wild harvested from the surrounding jungles. These trees have been growing for thousands of years, untouched by pesticides, fertilizers and most of the outside world.
Skinny has a few plants in the country, but our main one resides in Ben Tre.
6. From the very beginning there was a strong purpose with Skinny Coconut. Can you tell me about this?
Skinny's roots are in giving back, and we do this in a few different ways. One of the biggest ways we do this is our product. We truly care about the health and well-being of the people who buy our coconut oil. They trusted us enough to support us, so we reward that trust by not cutting corners. We craft the purest coconut oil because we've seen the affect it can have, and we believe healthy people change the world.
Another way we do this is by giving back to the country of Vietnam. 10% of our profits go back to Vietnam to building schools and facilities, teaching English to the Vietnamese children, funding year-round farming efforts and promoting clean water initiatives.
7. How has the community of Ben Tre in Vietnam benefited from Skinny Coconut Oil?
Our giving back to Vietnam is a step process. The heart of the company is to give back, but currently we are in phase one of that process. So we haven't been able to achieve all of our goals, but it's ongoing. Once Skinny & Co. becomes more successful, more of the plan will begin to take shape.
Currently, we are contracting schools to be built, have built bathrooms; we fund our local farmers and workers year-round even though the coconut-picking season is only 6-8 months, and we are working on clean water initiatives for the country.
Skinny is focused on achieving our goals for the country of Vietnam, but that's only possible if we achieve what we need to here first.
8. Being 100% raw, your company has a desire to educate people on the benefits of raw coconut oil. Why do you feel this is important for people to know?
With Skinny, we've seen education is key.  Being at a higher price point than other coconut oils, the main question we get is "Why are you different?"
There's so much misinformation not only in the coconut oil industry, but also in the health food industry, and we want to be advocates for change. We start this by being transparent in our practices and through education of consumers. When people are educated about what they put in their body, they can make more conscious decisions about health, and we want to make the world a healthier place.
9. Skinny is certainly an advocate for the benefits of raw coconut oil. What are some of the ways that you are doing that?
This all goes back to education. Making sure people are knowledgeable on the benefits or raw coconut oil and the difference between what is raw and what isn't is key.
We are truly advocates for this education and that's not for sales sake. We try and get our message out through multiple channels using marketing materials, social media and educational classes, among others.
10. So what are Skinny Coconut Oil's plans for the rest of 2014?
With the Emmys now over, we don't have a certain thing to set our sites on, but that doesn't mean the wheels stop turning. Skinny is focused on growth and that means expanding our coconut oil networks and new products. Our goal is to have a line of health-focused products, some coconut based, some not.
We are currently crafting coconut water and looking to get Skinny encapsulated. These are just a couple of new products coming down the pipeline, and we hope to have many more in the near future.
Also check out Part 2 and Part 3 of my interviews with Skinny Coconut Oil.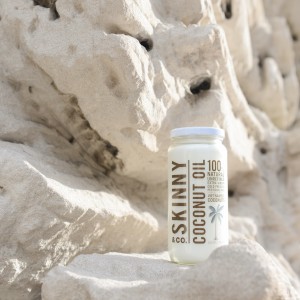 *The "Tree of Life" award is a distinction awarded by the Asia–Pacific Coconut Community (APCC).  The APCC is an intergovernmental organization organized in 1969 under the aegis of the United Nations Economic and Social Commission for Asia and the Pacific (UN-ESCAP). The APCC has 18 coconut producing member countries accounting for over 90% of world coconut production and exports of coconut products.
The objectives of the APCC are to promote, coordinate and harmonize all activities of the coconut industry, which sustains the lives of millions of small farmers as well as those engaged in production, processing and marketing of coconut products.
The APCC awarded the "Tree of Life" distinction to the Ben Tre Province for its lush coconut jungles.  Situated in the Cuu Long River Delta, the Ben Tre Province has favorable soil conditions for the growth of coconut trees. The trees here have a lot of fruit which has a higher content of oil than the coconuts grown in other regions of the country. Compared with other plants, coconut trees in Ben Tre have the highest value.
If you have any questions or suggestions just email me at Tina (at) Paleomazing.com.