There are so many variations of popular vegan cookies but today I am sharing a vegan chocolate chip cookies recipe for Earth Day. I'm happy to share a variation with you that combines the healthy qualities of a paleo cookie with all of the deliciousness of chocolate. In this case, dark chocolate. The twist on this is the use of tigernut flour. Read more about this below.
Tomorrow is a unique day for us to reflect on; over the years Earth Day has evolved to mean many things to many people. Awareness is what it's all about in the simplest terms and our care about one another, our planet and our future. Earth Day helps reinforce support for environmental programs, rekindles public commitment and builds community activism around the world through a broad range of events and activities. Earth Day is the largest civic event in the world, celebrated simultaneously around the globe by people of all backgrounds, faiths and nationalities. More than a billion people participate in campaigns every year!
This Earth Day recipe is not your traditional chocolate chip cookie recipe. We are using a flour that I feel lends to an increased awareness. Tigernut flour, from Organic Gemini, along with tahini are a few of the unique items that make this cookie special. I've written about tigernuts before but I have to just say, these little superfoods are really something. They're packed with prebiotic fiber, iron, magnesium and several other vital nutrients. Plus, they're a terrific source of healthy fats! Then you have tahini, which is also rich in minerals. Parents, you can feel good about feeding your kids these cookies on this special day or any day! They do not have that sugary loaded taste that so many are tired of these days.
These are great for airplane travel (lightyears better than the free cookies on the plane), road trips, hiking, dinner parties, served alongside paleo ice cream, packed in school lunches, or to have at home in the cookie jar. I always had my cookie jar stocked up when my kids were little ones. Now I continue to keep it stocked up for my "grown-up kids". Also, of course, keeping myself polished in the baking arena in anticipation for the day that my grand baby will be asking for cookies and cooking and baking alongside me.
Be sure to double up if you'd like to have extras on hand. The cookies can always be frozen and taken out as needed.
Print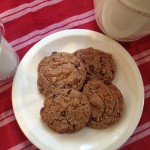 Vegan Chocolate Chip Cookies for Earth Day
---
Description
There are so many variations of popular vegan chocolate chip cookies. I know that I've made my fair share. I'm happy to share another variation with you that combines all of the healthy goodness of a paleo cookie with all of the deliciousness of tigernut flour and chocolate.
---
1

flax egg (combine

1 tablespoon

of ground flax seeds [measure the seeds after grinding] with

3 tablespoons

of water. Let sit and then use.)

1 tablespoon

coconut or almond milk (water is workable too)

½ cup

coconut palm sugar

½ cup

tahini

½ cup

Organic Gemini Tigernut flour

¼ teaspoon

of vanilla extract
Pinch of sea salt

1 teaspoon

baking powder

1 cup

vegan dark chocolate chunks (optional on amount – can use more or less if desired)
---
Instructions
Preheat oven to 350F.
Grease your cookie sheet or use parchment paper on a cookie sheet.
Mix all of the ingredients in the order listed, chocolate chips last.
Scoop heaping tablespoons or small ice cream scoops of dough onto your cookie sheet.
Do not flatten.
Bake at 350F for 10 minutes or until golden brown.
At 5 minutes, check for doneness.
Allow cookies to cool.
Enjoy!
---
Notes
Freezing the cookie dough for later use works well. Keep air tight.
If you have any questions or suggestions just email me at Tina (at) Paleomazing.com.