I have loved XO's verified gluten-free baking mixes for a long time. On special occasions I will use some sugars in my baking recipes so her mixes are perfect for my needs. In my world of paleo I feel sugar is far better in small amounts now and then, rather than on a daily basis. Her mixes are full of flavor, true to texture and come with easy to read instructions. With my interest in her superb mixes, I felt others should know about them as well, hence I decided to interview XO Baking Co. owner Lindsey Deitsch.
XO Baking Co.™ owner Lindsey Deitsch is a Certified Health and Nutrition Coach, professional chef and baker, an accomplished athlete/marathon runner and marathon training coach and is a Black Belt and crossfit and weight lifting enthusiast! Lindsey has been coaching and running marathons for over 10 years, and during that time she has learned the role that a healthy diet plays in the success of an athlete. She has used this knowledge to teach others the role a balanced diet and lifestyle play in overall health and wellness. She agrees and follows much of the paleo diet and lifestyle, yet her baking mixes do contain pure cane sugar and xanthan gum, which is certified gluten-free as all of her products are! Her xanthan gum is derived from corn for those of you who may need this information for allergy or sensitivity purposes.
The kitchen has always been her second home. She fell in love with the art of baking even more after culinary school. However, with the myriad of specialty cupcake and bake shops sprouting up all over the U.S., she didn't think she had a chance to compete. Then in 2009, she was diagnosed with Celiac disease and her world took a major turn. She then had to focus on a new mission with baking – Gluten Free!
She spent several years mastering the perfect blend of wholesome, gluten-free flours to create a finished product with superb taste and texture. Unlike many gluten-free products on the market today, XO Baking Co.™ is the first company to use Organic Coconut Flour in every single product. She was more determined than ever to create a product line packed with all natural ingredients, that people with and without celiac disease or gluten intolerance would enjoy. Bottom line: the taste and texture had to be spot on.
Fast forward to present day, and she has accomplished just that! Here is Lindsey Deitsch:
So Lindsey, how did you come up with the idea to start XO Baking Co.?
The idea of XO Baking Co. started first with the necessity for delicious tasting gluten free baked goods.  I did tons of research on gluten free flours and starting experimenting day and night. Baking was not a foreign subject for me – I am not a gourmet pastry chef, but I would consider myself a professional home baker. Baking has always been a passion of mine since I was young, and it came naturally to me.
Within a matter of time, I had created many delicious gluten free staples such as brownies, pumpkin bread, cake pops and more. I started bringing them to my karate studio and running club, for people to taste and enjoy. At that time, I was also getting my certification as a Holistic Health Coach in New York City. I also used my school friends as guinea pigs. Everyone just went crazy over the products and each one of them exclaimed that I needed to open a bakery. So rather than open a local bakery, I went bigger, and started XO Baking Co. We now sell Gluten Free baking mixes all over Canada and the US.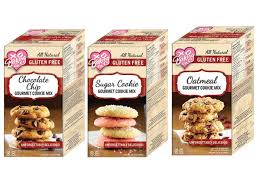 Are you celiac?
Yes. I was diagnosed with Celiac Disease in February 2009, after suffering symptoms for close to 10 years.
How did your life change once diagnosed with celiac disease?
Without my celiac disease diagnosis, I would have never started XO Baking Co. It warms my heart to know that I had such a positive impact on so many people's lives. It's amazing how just one delicious cupcake can make someone's day so wonderful!
You went to culinary school. How has that helped you in your company?
I went to Culinary School a few years before the thought of XO Baking came into play. I was bored with my day job and needed something else exciting and fulfilling in my life. I used to work for Celebrity Chef, TV host and cookbook author, Devin Alexander. She is a graduate of the culinary school I went to, and referred me to go train under Cecilia De Castro. I have always loved to bake, and am self-taught, for the most part. Culinary school helped me with my cooking and knife skills mostly, however it was my teacher, Cecilia, who really inspired and encouraged me to follow my passion and start a baking company!
What difficulties did you encounter in trying to come up with your wonderful products?
I like the word "challenge" rather than difficulty. Challenges are events in your life which are designed to be conquered, and that's the way I look at every aspect of my life, whether it has to do with product development or not. With any type of food product, being a product developer is always going to pose challenges. Some products are going to be easy and take one month to develop, whereas others may take six months to a year. New challenges arise every day in the world of XO Baking!
You are also a health coach?! What do you find is the main difficulty in those you help who are trying to stay off of gluten weather celiac or gluten sensitive?
The clients that I work with most often struggle with a fear of going out to eat. The fear of being "glutened".
What is your advice to them?
My biggest advice is to always plan ahead when going out. So many mainstream restaurants now have gluten free options. Call ahead and let the manager know you're coming, and tell him or her you have certain dietary restrictions. Let the server know as well. Unless the restaurant staff has been trained appropriately, cross-contamination is always going to be possible. I suggest educating the staff members. Just a quick 2 minute conversation can mean a safe meal!
I've tried your products and I absolutely love them. What do you feel sets your products apart from other gluten-free mixes?
That's the biggest differentiation between XO and other gluten free mixes. XO Baking products taste just like something you would get in a regular gluten-filled bakery.
Our mixes are rice free. The majority of gluten free mixes contain rice.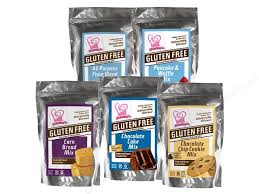 I see that all of your products are not just certified gluten-free but also certified Kosher. It can take a lot of work to get these certifications. Why did you go through the effort to make sure to get your products certified?
XO Baking products are Certified Gluten Free, Kosher and Non GMO Verified.   As an allergen friendly product, we want to ensure our customers know that the product they are about to enjoy is 100% free of gluten. The certification means we test every single batch. XO Baking products are also OU certified (i.e. Kosher). We want our customer base to comprise as many people as possible. Our non GMO certification is our most recent addition. We want our customers and fans to know that we source quality ingredients!!
What is your favorite thing to bake?
Peanut Butter Blondies, Blueberry Scones and Nutella stuffed chocolate chip cookies.
 What is your all-purpose flour good for?
Our all-purpose flour is good for any recipe that calls for flour, whether it's a sweet or savory recipe. One of my favorite things to do with the flour is to use it to coat chicken and to thicken sauces and soups.
There are a lot of companies claiming that their all-purpose flours are cup for cup. I've tried a few of them and wasn't that thrilled. I decided to give yours a go for doughnuts (I had to make it difficult) and was thrilled!!!
What is it about your all-purpose that gives it the upper hand to use for just about anything?
Mmm I love doughnuts!!! The combination and ratios of gluten free flours gives our all Purpose flour the upper hand.   I grew up baking with gluten and eating gluten, so I knew what type of product I needed to strive to create! So many companies out there (some of the larger ones) put gluten free flours on the market that are just mediocre. The time, effort, dedication and passion put forth in the creation of their products is just not there.
Do you have a delicious recipe you could share with us that uses your all purpose flour?
Yes, my old fashioned lemon bars. I love them as much as all the others that make them.
Thank you Lindsey. You are quite a powerhouse entrepreneur!
Be sure to enjoy the above mentioned lemon bars recipe. It is scrumptious! And don't forget to enter my latest PaleOmazing giveaway – as always, there is something fun and new being given away right now.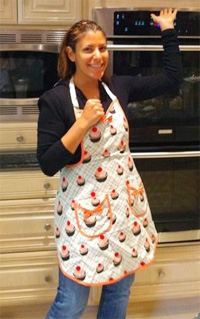 Lindsey Deitsch (pictured above), CHC received her Bachelor's degree in Public Health from UC Berkeley and is a graduate of the Westlake Culinary Institute where she studied under Chef Cecilia de Castro. Lindsey worked as a Nutritionist at UCLA's Clinical Research Center for over 4 years prior to that. She received her training and certification as a Health Coach from the Institute for Integrative Nutrition in New York City. She is the proud owner and founder of XO Baking Co.™: http://xobakingco.com/.
If you have any questions or suggestions just email me at Tina (at) Paleomazing.com.