These are some of the softest and moistest cookies when it comes to a cookie-like brownie, and can be made in less than a half hour from start to finish! I make these huge, so these soft cacao brownie monster cookies are really to be shared over a cup of cold brew coffee, or indulged all by oneself. I won't tell anyone as long as you don't tell anyone I did that too. 🙂
There are very seldom times that I will make a recipe with sugar and too much sweetener; as you all know I am the low carb advocate queen. So, I am confessing that this recipe does have sugar. It is not paleo and may be as of this writing the only recipe that contains sugar on my entire website. For some of my other favorite PALEO cookies (and you can find a whole bunch on my site) try Tina's Amazing Paleo Chocolate Chip Cookies or my Paleo Oatmeal "No Oatmeal" Cookies. Two fantastic paleo twists to these classic cookie recipes. Yum!
There are many cookie recipes out there on the internet and cookbooks that contain such a high amount of carbs; so I know there are many out there that really do not care or understand. Well I do! I do care about keeping my carbs low, but I also know there are times that we may need or want to have a "cheat" treat. This recipe is my gift to the real world – treats in 2014 do exist and we can have them.
Making a dessert or treat with healthier ingredients makes them even better tasting and better for our bodies. My choice of cacao (thephilosophie.com/products/cacao-magic) in this recipe is some of the best; my eggs are farm-fresh and free-range as well as my extracts; and even down to the sugar-free (stevia only) chocolate chips (lilyssweets.com/baking-chips) I use.
This recipe is an altered version of a recipe on allrecipes.com named Forgotten Puffs, which takes 5 hours to make.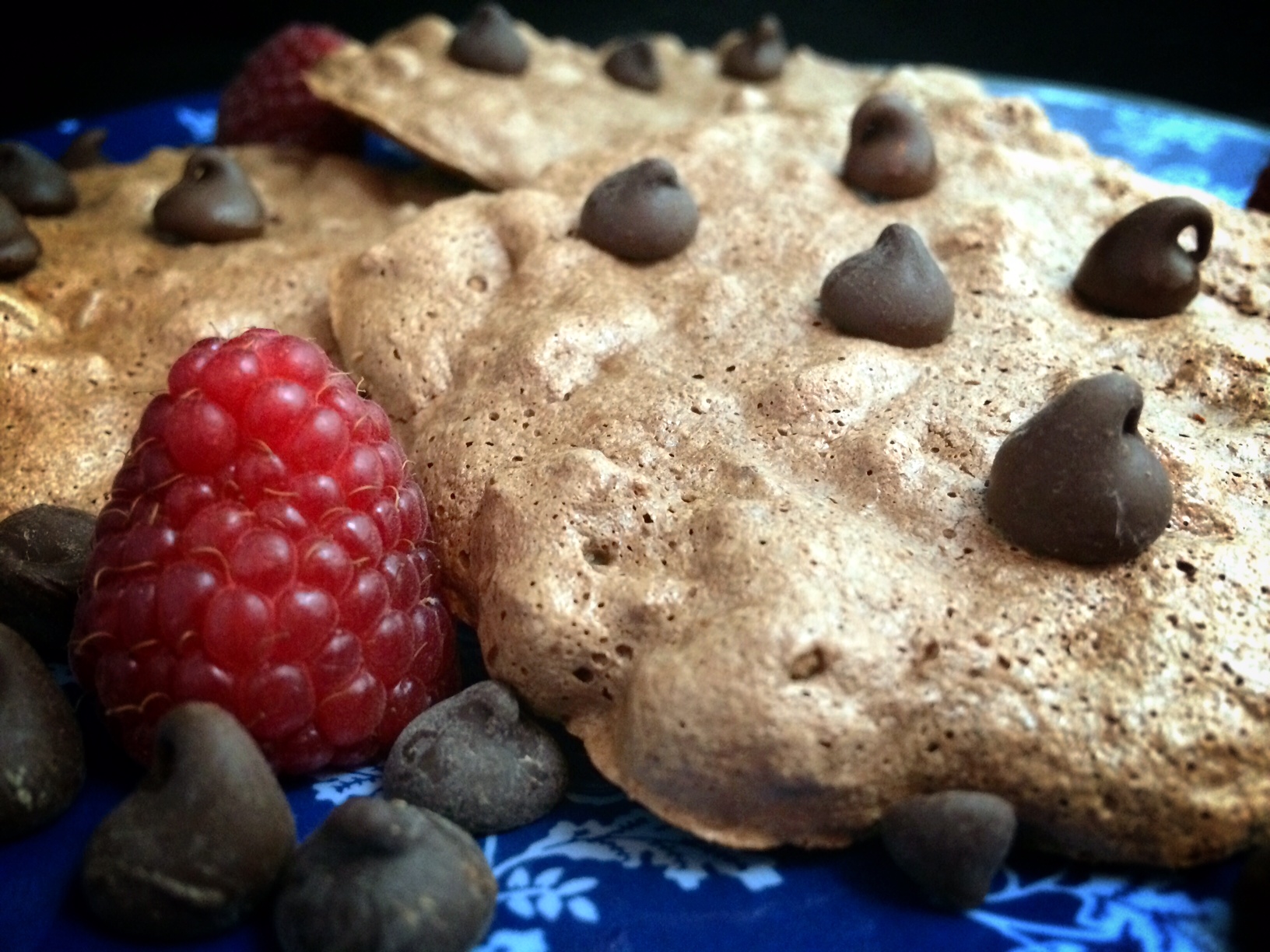 On the subject of paleo dessert recipes and cookies and treats, be sure to check out my ebook Decadent Chocolate & Cacao Recipes and Delights for more paleo treats!
So, without any further delay, may I introduce my latest indulgence and violation of true paleo: the Soft Cacao Brownie Monster Cookie. Enjoy!
Print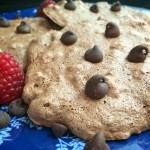 Soft Cacao Brownie Monster Cookies
---
Description
These are some of the softest and moistest cookies when it comes to a cookie-like brownie. May I introduce my latest indulgence and first ever violation of true paleo on my website in 2014: the Soft Cacao Brownie Monster Cookie.
---
2

egg whites

2/3 cup

super fine ground organic cane sugar

1 teaspoon

vanilla extract

1/2 cup

cacao powder

1/2 cup

stevia-sweetened dark chocolate chips

1/2 cup

chopped pecans
---
Instructions
Preheat oven to 350F degrees.
Line a large baking pan with parchment paper.
In a glass bowl beat your egg whites with a beater until they form a stiff peak when holding the bowl upright (facing the ceiling).
Add the sugar slowly while beating.
Add vanilla extract and cacao slowly until well incorporated.
Add in the chocolate chips and nuts at the end and gently fold in.
Use a large spoon or large soup spoon and place 2 large scoops a few inches apart on the parchment. Make them slightly irregular yet round.
They will spread out slightly.
Bake for 13-17 minutes.
They will start to form a slightly harder "shell" on the top, yet will be very moist inside.
Remove and let cool thoroughly. These cookies are meant to have a very soft and light brownie texture inside.
Gently place the cookies on a platter and serve.
Enjoy!
---
Notes
If allergic to nuts, omitting these is fine.
If you have any questions or suggestions just email me at Tina (at) Paleomazing.com.