I have never used fresh sliced sides of pork and really had a blast with my new order from 5280 Pork (also called 5280 Meat). The possibilities are quite endless and were a bit educational for a gal like me, being fairly new to the whole uncured pork arena.  I really enjoyed figuring out how I can work uncured pork into my paleo meals and recipes, getting creative with new ideas such as this recipe here for baked eggs in a porky cup!
Fresh sides of pork are simply the same cut of meat as bacon; the only difference is that they are  not smoked. From my understanding some cultures call this salt pork; it's more fat than lean. Many use it to fry up foods and add it (and the grease) to their vegetables. I am told using it like that adds great flavor and the fat is very satisfying as we paleo fat lovers know. Any New Englander knows to place the side pork in baked beans, right?!
Below is a recipe I sort of whipped up with my new order of these slices of pure unadulterated beautiful pork in front of me. I had opened the package and they were clean, no odor and loaded with fat (not meat) and just what I expected after reading up on the above. I spiced up the slices and fried them until just cooked and still pliable; later to be curled up inside a muffin cup to hold my soon-to-be baked eggs. The magic began and the result is below. If you do not have sliced pork sides then use some bacon. NO PROBLEM!
As a side note, I tried frying up the pork by itself initially and it reminded me of fried pork rinds that you can buy in the bag at any convenience store, yet they were clean and much better due to the quality of 5280 pork. Then I added various spices. Then it started to taste like homemade bacon, sans the smoked flavor that I am accustomed to in bacon that I have indulged in this past year: Wellshire Black Forest Bacon. Now I am into trying 5280 pork and their bacon as well. That is for another recipe all together but I did try their 5280 bacon with my Paleo Dark Chocolate Bacon and it was AMAZING!
You can see from the photos above how simple this recipe really is. But the result is fantastic! OK, work your magic and have a blast. Remember eggs can be good during any time of day and you can do so many recipes with eggs.
Check out some of my other paleo breakfast recipes as well as my giveaway page of free gifts that I like to give away!
Print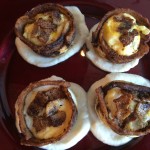 Baked Eggs in a Porky Cup
---
Description
Work your magic and have a blast. Remember eggs can be good during any time of day. If you do not have sliced pork sides then use bacon. NO PROBLEM!
---
6

eggs

10

–

12

slices sliced pork sides or bacon

4

slices paleo bread or rolls (optional)
Salt and pepper to taste
Spices: FlavorGod Garlic, Spicy and Everything OR use chipotle and garlic salt
OPTIONAL: grass fed sheep or goat cheese
Ghee or butter or coconut oil to grease muffin tins
---
Instructions
Preheat oven to 350F degrees.
Fry up your sliced pork sides or bacon until they are still pliable/bendable. (I used one flavor spice per side.)
Drain on a paper towel.
Oil the muffin tins.
Chop up one piece of the pork (for topping)
Place your bread or pork of choice to line the bottom of your muffin tin. I used my paleo bread.
Line the sides with a full slice of your choice of pork. It will move inward until the egg lands (next step).
Gently crack open an egg directly into the muffin tin.
Add cheese if desired.
Add salt and pepper as desired or use seasonings of choice.
Add some chopped pork to each top.
Bake 20-25 minutes until done to your preference of eggs. Some like it wetter and runnier, some do not.
Remove muffin tin from the oven and let sit for 1-2 minutes.
Remove from tins and serve.
Enjoy!
---
Notes
These are excellent reheated the next day as well.
You can add scallions, chopped broccoli etc. The ideas are pretty limitless.
If you have any questions or suggestions just email me at Tina (at) Paleomazing.com.