What is the beauty sitting on top of my squash puree? Aha, this is none other than one of my favorite breakfast recipes or snacks and SO easy to make while I travel: bone marrow on top of my butternut squash puree and a fried egg. …BONE MARROW ROCKS!!!
I saved the broth in the refrigerator for later as the broth is very healing for me while I travel. I need it to combat any trouble that results from the gluten I may ingest while trying out new foods, especially from cross-contamination while traveling. The broth is really soothing to my tummy and digestion and I feel it is essential to add to any protocol when you are healing up. It is used on the SCD and GAPS diets and Chris Kresser recommends it often.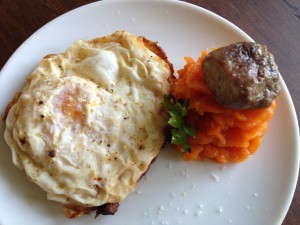 Why did I use a star tip when I made my squash puree? Well, because I prefer beauty. I love to try and make my plates or platters resemble a slice of art in time. It adds more aesthetics to my overall dishes and when I serve them to others I want that "meal" experience to transcend not only through my flavors, but from my display as well. It's the whole experience of food for me. This is gastronomy to me, which I am endlessly perfecting and working to always improve upon myself.
Please enjoy and as always if you have any questions never hesitate to email me.
Print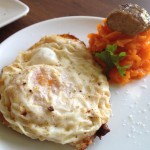 Breakfast Eggs with Bone Marrow
---
Description
Bone marrow is delicious and the broth it creates is very healing and can be reserved for later. Enjoy!
---
Broth and Marrow

2

–

3

pounds of grass fed leg bones with marrow

1 teaspoon

cider vinegar
Onions, carrots and parsnips (optional)
Salt & pepper (optional)
Butternut Squash Puree

1

small butternut squash

2 teaspoons

coconut oil, butter or ghee

¼ cup

coconut cream (optional)
Salt to taste
Egg
As many eggs as you desire
Salt and pepper to taste
---
Instructions
Broth and Marrow
Prepare an 8 hour crock.
Add bones and cover with water.
Add vinegar.
Cook 8-10 hours on Medium or High.
Once done, remove one bone and carefully keep the marrow in the bone.
Drop it gently onto a plate. It will slide out with a little jiggle if needed.
Cool your remaining broth in the refrigerator.
Butternut Squash Puree
Preheat oven to 400F.
Cut squash in half.
Clean.
Spread with ½ the fat suggested.
Cover gently with foil.
Bake 40-50 minutes depending on the size of your squash.
Remove and scoop out while hot and place in oven proof bowl.
Add remaining fat.
Add coconut cream (optional).
Blend with a hand immersion blender. It will get very creamy and soft.
Season to taste with salt.
Add to pastry bag with star tip and make your magic as you wish.
NOTE: You may scoop onto a plate if you wish instead.
Egg
Take some of the white creamy fat from the top of the broth (not the broth) and place in a small skillet.
Heat it up and melt it if not already melted.
Fry each egg in the fat.
Season to taste.
Enjoy!
---
Notes
Save the broth in the fridge for later as it is very healing!
link
If you have any questions or suggestions just email me at Tina (at) Paleomazing.com.