Finding good coffee is not always easy in the US, and if you've been to Europe, you know what I mean! Coffee is a great treat for those who eat clean and live an active lifestyle, but I found that most coffee in the US is not friendly towards those with digestive issues. For a long time, I hoped for a good and ethical coffee company in the US, and I'm sure many of you have felt the same way. Well, I have some exciting news for Paleo coffee drinkers!
As many of you may know, I love coffee, but I wasn't always a big fan of it. When I traveled to Europe, this all changed. During my European adventure I was able to try coffee from all different regions. One thing they all had in common was their delicious taste and none of the weird digestive side effects, as a celiac, I was so accustomed to having from drinking coffee in the US.
I discovered Puro Coffee back home and it immediately took me back to those delicious moments with my cup of espresso in Europe. My excitement for Puro Coffee spread and led to a Press Release all about my raving review of Puro Coffee. By the way, I am now able to acquire this truly European coffee, Puro, and have it delivered right to your door! I am the only one in the USA right now doing this, so let me know if you'd like to try a bag or more for the family. 🙂
Now pour yourself a mug of coffee with one of my delicious Soft Cacao Brownie Monster Cookies and please check out the wonderful press release by The PR Group East West and my own unbiased, honest review to learn more about Puro Fairtrade Coffee Company.
The PR Group East West was so kind to spread word about my experience in the coffee world and the benefits of drinking a coffee which is mold-free and mycotoxin-free, like Puro, for anyone, but especially one with digestive issues. By having this press release out there, it not only raises awareness for a gluten-free company that is not very well known, but it also raises awareness for a coffee company who is ethical, environmentally and health-conscious in practice.
You can read the press release in its entirety below and enjoy my own Bulletproof Coffee or Cold Press Coffee recipes for a heathy coffee fix. Enjoy!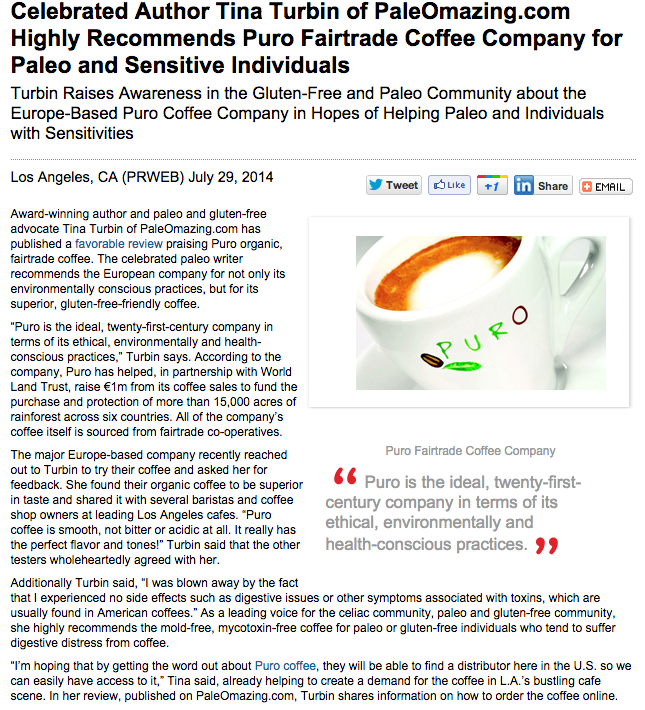 If you have any questions or suggestions just email me at Tina (at) Paleomazing.com.