To be able to use turnips in recipes with such flavors like this is really a treat as far as offering something different and allowing the healthy micronutrients of yet another gift of nature into our bodies. This is a very QUICK and EASY and VERY TASTY paleo recipe. The more varied the diet the better for the missing nutrients we may be offered from this non-daily vegetable. These mashed turnips sure beat popping more vitamins loaded with various fillers.
Many are curious about the turnip. What is the difference between turnips and rutabagas? Ah, that is a great question! Turnips are usually white-fleshed and have white or white and purple skin. Rutabagas have a more yellow flesh and a purple-tinged yellow skin, plus they're bigger than turnips and CAN be a tad sweeter. There are also yellow-fleshed turnips and white-fleshed rutabagas. In any case, both root vegetables have a slightly sweet flavor yet are truly reminiscent of the cabbage family.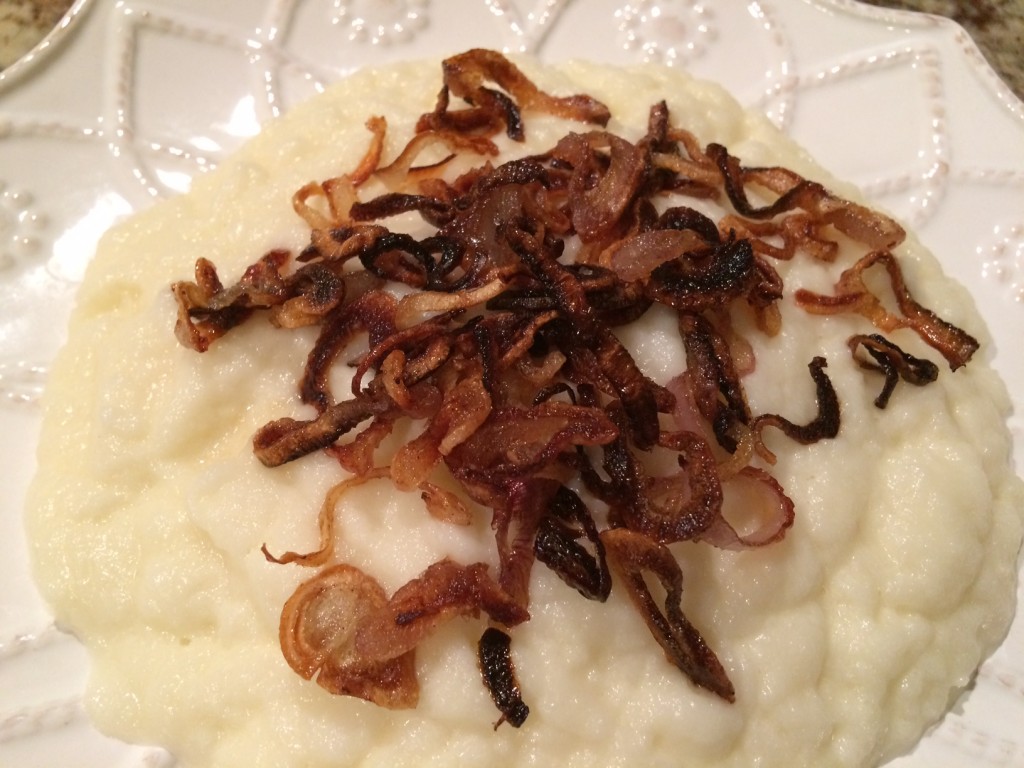 OK, now when buying either be sure and choose ones that are firm and feel heavy for their size. Turnips are inclined to get "woody" as they grow, therefore look for ones that are less than 4 inches in diameter. If the greens happen to be attached, remove them before storing the actual roots in a plastic bag. Place in your fridge. Store the turnip greens separately if you plan to eat them. Many love them, and there are so many things to do with them too.
Let's get on with the show. Let's start to make these babies and enjoy this new dish. I have taken a very dairy-loaded, semi "bad fat" loaded recipe and made this version QUICK and EASY and one I am willing to feed my friends and family; and I feel this is worth sharing with you all.
You can try this with my Royal Rib Eye Steak Dinner and some cheezecake for dessert. Decadent!
Don't forget to check out my giveaway page again for another fun giveaway this week!
Enjoy!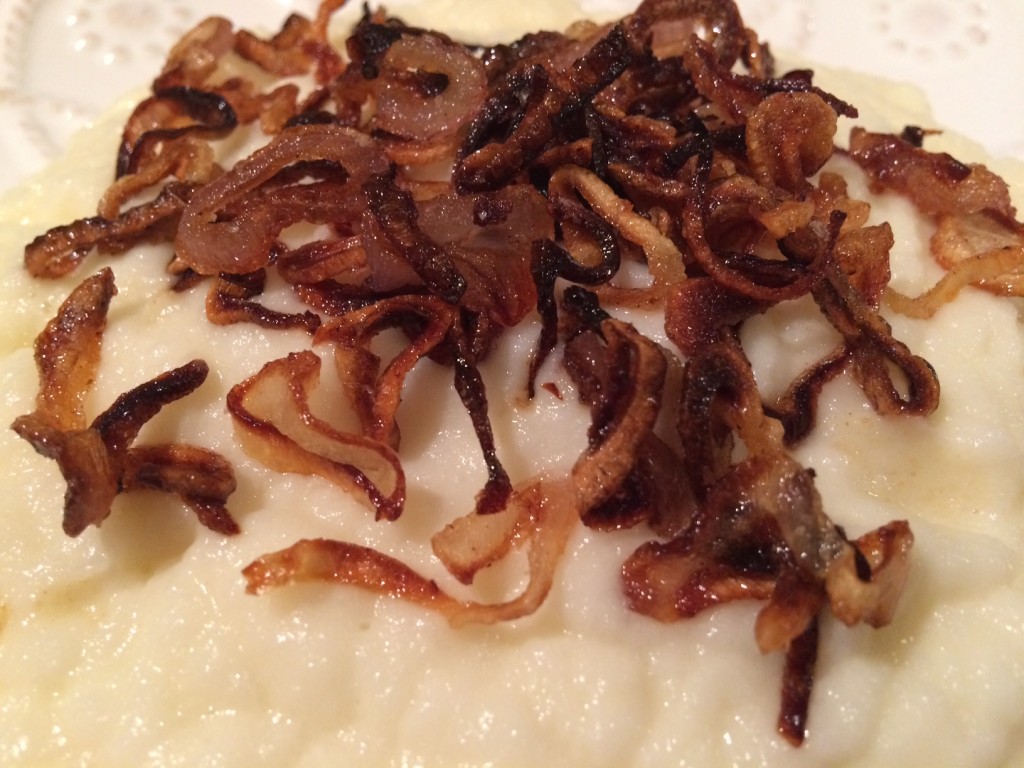 Print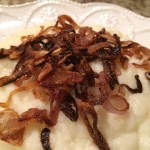 Mashed Turnips with Crispy Shallots
---
Description
This is a very QUICK and EASY and VERY TASTY recipe. The more varied the diet the better for the missing nutrients we may be offered from this non-daily vegetable.
---
2 tablespoons

unsalted grass-fed butter or ghee

2 tablespoons

coconut oil

6

small or

3

large shallots, peeled and sliced into very thin rings

2

large turnips, approximately 4 pounds

1/3 cup

full-fat coconut, plain hemp or plain almond milk (or grass fed full-fat milk or cream)

4 tablespoons

salted grass-fed butter (or ghee yet add some salt)

1/2 teaspoon

freshly ground black pepper
Sea salt to taste
---
Instructions
Peel the turnips to remove the waxy skins and cut them into 1-inch chunks/strips.
Place them in a saucepan with water to slightly cover and 1 teaspoon of salt. Bring to a boil and simmer about 30 minutes.
Drain well.
Puree the turnips in several batches in a food processor or hand blender.
Add the butter/ghee and puree a bit.
Rapidly add milk of choice while blending.
The turnips should be smooth and creamy.
Salt to taste.
Heat the unsalted "fat" of choice in a saucepan over medium-low heat.
Reduce the heat to low, add the shallots, and cook SLOWLY and stir constantly until they are a golden brown and crispy, 10 minutes.
Remove them from the fat with a slotted spoon, fork or tongs, drain well on paper towels, and spread out to cool.
Return the turnip puree to the saucepan, season as desired and reheat, stirring, over medium heat.
Now the fun part – serve hot, sprinkled generously with those crispy cooked shallots.
Enjoy!
---
If you have any questions or suggestions just email me at Tina (at) Paleomazing.com.