Today it is bright and sunny out and I just returned from a monstrous hike and I decided to indulge in a slice of this incredible Raw Vanilla Cheezecake with Orange Berry Sauce. I am honoring my body by giving it health and movement. Those are two things I truly believe Paleo is about. Exercise of some sort is just common sense and we all feel great when we move.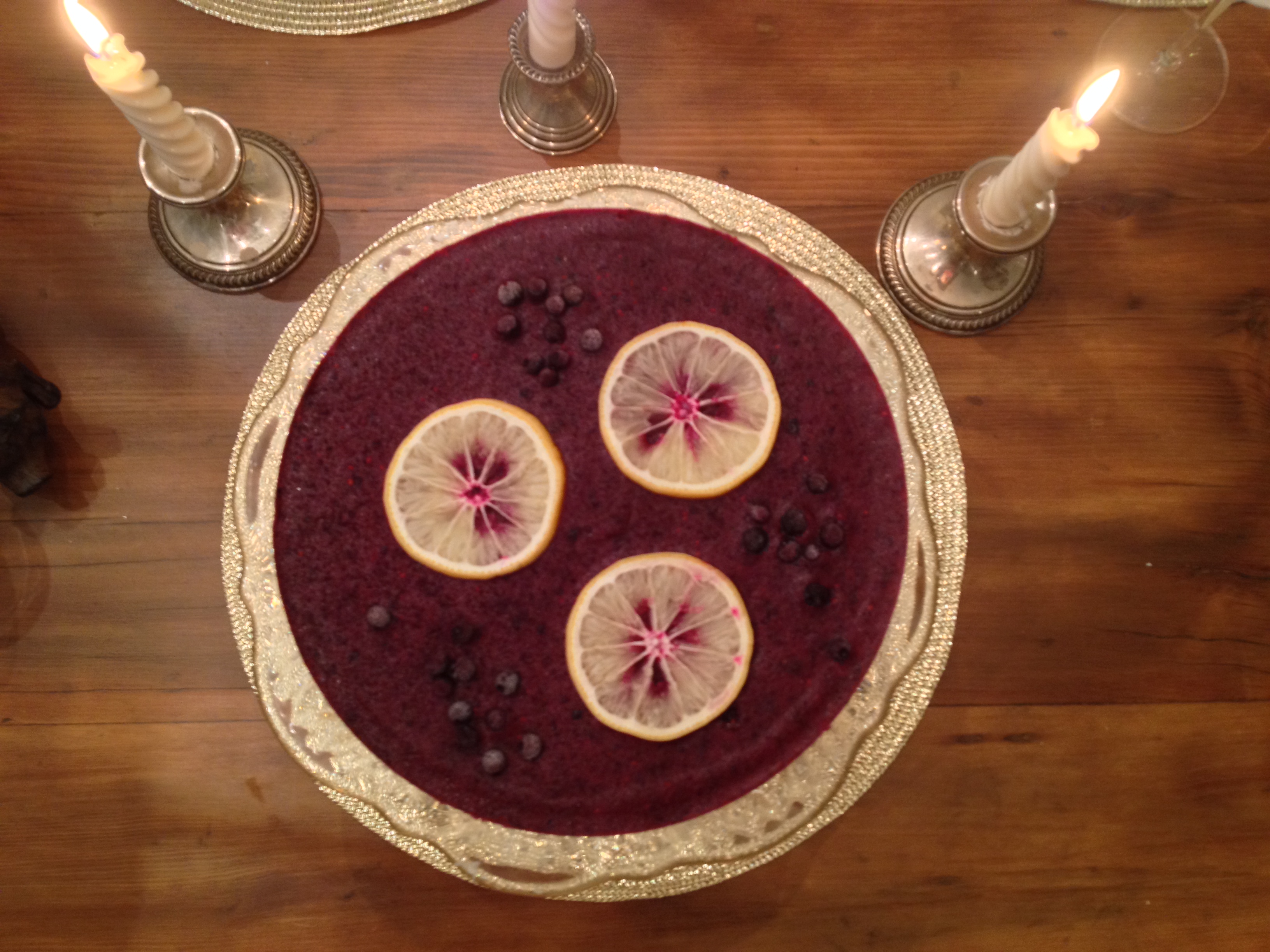 This recipe has so many beneficial elements and most important is that it will not spike your blood sugar and it will nourish your body with the various ingredients. I only wish we could walk into our local grocery stores and purchase a clean and healthy dessert like this! Maybe one day. In the meantime I have oodles of recipes you will not find in your local stores and they are all at your disposal.
This recipe is loaded with fresh fruits, natural enzymes, protein and good fats. Numerous cheezecake/nut crust recipes out there use agave BUT I do not use agave in any of my recipes and I will not. I have not used agave for a number of years and I really never felt good with it in my body and had a hunch something was up with it. I KNOW when a pie, any dessert, a shake, a salad dressing or sauce has agave added by taste and effect on those around me. Huffington Post published an article about this, I suggest you read it as well as numerous other articles to support this. Do not let someone fool you by telling you that they have an agave that is raw, organic or pure. It truly is all crap and wreaks havoc on your body, blood sugar, liver and will make you fat! I am not out to help anyone get fat.
This recipe will be shared on my Instagram and my other social sites today, May 2nd to honor yet another point: it is Celiac Awareness Month and this is a field and Cause which I have worked in for many years. Many have asked me for one of my Cheezecake recipes and so here it is – for you all. Honor yourself today and every day. You are special!
Have a blast and you are going to LOVE this one!
Print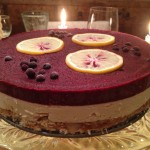 Raw Vanilla Cheezecake with Orange Berry Sauce
---
---
Filling:

2 cups

cashews

1 tablespoon

full-fat coconut milk

¼ teaspoon

vanilla powder

8 tablespoons

Yacon, organic honey or coconut nectar

8 teaspoons

fresh lemon juice

½ teaspoon

vanilla paste

1/8 teaspoon

sea salt, finely ground

1

large orange, juiced (no pulp)

½ teaspoon

orange zest
Sauce Ingredients:

1/3 cup

fresh orange juice

4 tablespoons

100% berry jam of choice such as raspberry or boysenberry

3 cups

ripe strawberries
Lemon juice to taste

3

dates
---
Instructions
Filling:
Blend cashews, coconut milk, vanilla powder, sweetener of choice, and lemon juice in a high-speed blender.
Add the remaining filling ingredients.
Blend 2 minutes on high until very creamy.
Pour on top of your crust of choice. I suggest my Raw Chocolate Pie Crust.
Freeze for 6 hours.
Remove 30 minutes prior serving.
Sauce:
Blend all sauce ingredients in a high-speed blender until thoroughly incorporated.
Pour on top of your filling after it has been sitting in the freezer for 30 minutes. Then return to the freezer for the remaining time.
Enjoy!
---
Notes
Here's another method for putting this recipe together:
1. Line a 9-inch springform pan with wax paper on the sides and bottom. I like to make and freeze my crust.
2. Remove from freezer and pour a thin layer of sauce on bottom.
3. Return to freezer and freeze again.
4. Remove again and pour cheezecake filling on top. Return to freezer.
5. Remove from freezer and pour the remaining sauce on the top.
6. Top with fresh berries. Freeze another 2 hours.
7. Always remove 30 minutes prior to serving.
8. Blending of colors may occur if you don't freeze between layers but that way is beautiful as well.
If you have any questions or suggestions just email me at Tina (at) Paleomazing.com.