These days most of us associate caraway with popular German and Austrian rye bread recipes. My husband is from Chicago and he is always raving about the delicious Chicago delis and their breads, specifically their ryes and the Kovala. This Jewish style rye is a favorite of anyone who enjoys a great rye bread, caraway seeds and definitely anyone from Chicago. With that said, I have been presented with some pretty tough standards. My idea was a rye bread or roll that is gluten-free, and definitely paleo, and tastes like a Jewish rye without the yeast as I am off yeast for now. Oy Vey! I'm now happy to present my Paleo Caraway Biscuits!
This one took me some time in trials and errors. The more caraway; the more true to taste of a rye. You can play with the salt as you may desire a bit more than what I recommend below.
My hubby is pretty darned hooked on these. I now make several and freeze them. They thaw beautifully and stay fresh tasting. He adds his hormone-free pastrami and his special mustard, and he is a very happy man.
I suggest you follow this recipe exactly on your first time trying it out. If you are a real lover of rye bread, then afterwards you can play with the honey (sweetener) and salt as stated above. Some like a sweeter rye and some don't. In the end, this recipe has been pretty fool-proof in final testing and I have really enjoyed the feedback on it these past few months. It is a pass!
I will be testing it as a loaf one day and I am sure I will need to make some adjustments to the ingredients. Hopefully I won't need yeast to get that rise and fluff. I am personally off all yeast and loving that as well.
I hope you enjoy, my dear friends!  Please do let me know what you think.  Both my husband and I find this to be a wonderful addition to many of our paleo meals.  You may even enjoy it alongside paleo cauliflower mashed potatoes and roast chicken!
Print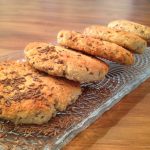 ---
Description
Finally, a jewish style rye bread that's true to Chicago standards, without the yeast or gluten; a true paleo rye bread. My husband and friends are hooked and I trust you will be as well!
---
2 ½ cups

almond flour

1 tablespoon

tapioca flour

½ teaspoon

salt (more is optional)

1 tablespoon

baking soda

¼ cup

walnut oil (or oil of choice)

1/8 cup

honey, melted but not hot

2

whisked eggs

1/3 cup

caraway seeds

1 teaspoon

vinegar
---
Instructions
Preheat your oven to 325F degrees.
Place parchment paper on you baking sheet.
Sift the flour, tapioca, salt and baking soda together in one bowl.
Mix the oil, honey and eggs together in another bowl
Combine the wet and the dry ingredients and mix well.
Fold in the caraway seeds.
Add the vinegar and mix well.
Let sit for at least 1 minute.
Dollop the batter onto the parchment paper and shape into the size you'd like your biscuits to be. I use all shapes and sizes.
Bake for 12-15 minutes.
Keep an eye on the oven.
Let cool on a cooling rack or serve semi-warm.
Enjoy!
---
Notes
These freeze beautifully!
If you have any questions or suggestions just email me at Tina (at) Paleomazing.com.