Chocolate chip anything is good, right? You will be over the moon with this paleo chocolate chip bloom cookies recipe (one of my most favorite paleo dessert recipes), so be sure and make plenty!
I love the way these are made and how absolutely simple they are to make. The combination of ingredients is what makes these cookies "bloom" and what makes them a favorite to many people.
I've seen grown men whine for more. Gotta love it! It was football season and I had just wrapped up this recipe and there was no better time to test them out than on a bunch of people hanging out for "the game". We also had some great "game snacks" like my Paleo Hummus and Spicy Kale Chips. Yum!
Ok, so it was a wee bit tense, you know, 49ers and Seahawks. I proceeded to ask the guys and ladies to try these, and in between plays I got the OMG responses (about my cookies) and then the play started and there was dead silence. I looked over and each person was glued to the TV but grabbing handfuls of cookies off the tray and gobbling them up. What a sight! It was hilarious.
The game ended and if you are a 49ers fan, well sorry then, it was a bad game. If you are a Seahawks fan then you were on top of the world. We had people rooting for both sides over at the house and to this day I think it was these very cookies that saved an argument. As soon as one guy would display immense disappointment his wife just handed him another cookie and all was well.
So the early evening ended peacefully and these cookies saved the day. Not the game, but the day.
Another fantastic cookie recipe using unflavored gelatin is my Amazing Paleo Chocolate Chip Cookies recipe. Try both and see which one you like most!
Then, visit my giveaway page and see what great gifts you can win! Enjoy!
Print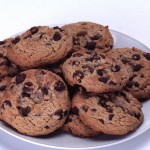 Paleo Chocolate Chip Bloom Cookies
---
Description
Chocolate chip anything is good, right? Well, you will be over the moon with this recipe so be sure and make plenty!
---
2 cups

blanched almond flour

1 tablespoon

coconut flour

1 teaspoon

unflavored gelatin

½ teaspoon

baking soda

½ teaspoon

sea salt

6 tablespoons

unsalted grass-fed butter, melted

¼ cup

+ 1 tablespoon honey (I prefer a light honey like clover)

2 teaspoons

vanilla extract

½ cup

dark organic chocolate chips or chopped
OPTIONAL: chopped nuts of your choice.
---
Instructions
Preheat oven to 350F degrees with rack in middle position.
Place almond flour, coconut flour, baking soda and sea salt in a mixing bowl and combine together.
Mix butter, honey and vanilla together in a separate bowl.
In a small cup, add 2 tablespoons cold water to the gelatin.
Let sit for 1 minute.
Add all wet ingredients to the dry mixture.
Mix slightly by hand.
Use your electric hand mixer and mix until well incorporated.
Stir in chocolate chips (and nuts, if using) by hand.
Using your regular silverware, use a teaspoon to scoop the dough.
Place each dough ball on a baking sheet lined with parchment paper.
Bake for approximately 12 minutes until they are just LIGHT golden brown on the edges.
Remove from oven and cool on pan for about 3 minutes.
Remove from pan with a cookie spatula and place on rack to cool.
Cover them if you won't be eating right away.
Enjoy!
---
Notes
Can be stored in freezer if you make many ahead of time like I do.
If you have any questions or suggestions just email me at Tina (at) Paleomazing.com.