This is one of the easiest and most rewarding recipes. Everyone will think you are a secret dessert chef or a chocolate master after you make this paleo gluten-free chocolate bark with dairy free option. I just love a recipe that requires few ingredients, little time and rewards me with a beautiful outcome and that tastes as good as it looks.
This chocolate bark also tastes terrific paired up with my Paleo Non-Alcoholic Raspberry Mojitos. Something about rich dark chocolate and a light fruity splash – to die for! If you prefer alcohol well you know what to do. We also often enjoy it with my light and delicious Paleo Dairy-Free Almond Kefir Milk.
I also want to emphasize that the sky is the limit when you choose the dried fruits or nuts that you want to include in your chocolate bark. I vary this recipe often and allow my pantry to help me select what my latest outcome may be. Dried fruits do add some texture and the larger the pieces the greater surprise to your guest, you, or the lucky gift receiver. Did I mention these are terrific gifts?! Tie them in little cellophane bags or a fancied up mason jar and you are now an official Master Dessert Decorator! Let me know what you decide to add to yours!
Print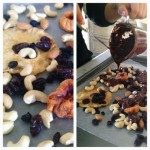 Paleo Gluten-Free Chocolate Bark- with Dairy Free Option
---
Description
Easiest recipe ever! So fun and kids also love to make this, even husbands or boyfriends. It is a very rewarding recipe! It comes with fruit and nut options. Let your imagination run wild! Paleo, Dairy-Free, Gluten-Free, Nut-Free, Sugar-Free, Vegan and Keto Approved!
---
16 ounces

dark chocolate (I prefer 88%) or make your own totally sugar-free

2

–

1/2

cups of any combination: dried fruits of all shapes and sizes, nuts of various sizes and shapes
OPTIONAL: Salt, chipotle, herbs and spices
OPTIONAL: You may use Enjoy Life Dark Chocolate Chunks for dairy, nut and soy free options.
NOTE: Brazil nuts are too large unless chopped, and I recommend chopping macadamia nuts.
---
Instructions
Line a Pyrex dish or a cookie sheet with thick tin foil: 11 x 7 for thicker bark or 9 x 13 for thinner bark.
Prepare the fruit of your choice by cutting or leaving whole and set aside – variety adds eye appeal.
Prepare the nuts and cut or leave whole – remember variety adds eye appeal.
Melt the chocolate over a double boiler or carefully in your microwave until creamy and wet/pourable. If using your microwave please be sure and do so in increments of 15 seconds and stir between. You can easily ruin your chocolate in the microwave.
Pour the chocolate immediately over the tin foil evenly using a spatula to help get it all out.
Arrange the fruits and nuts on your chocolate bark in whatever way you wish, or just toss it all on and let it land where it will.
Refrigerate for 1 hour or leave at room temperature (if cool) for a few hours.
Once hardened, break up into pieces.
Enjoy!
---
Notes
Add salt, chipotle, spices and herbs at any stage of this – even right after melting, but pour into foil right away!
I love to add course salt on half my chocolate to allow options.
Makes for a terrific gift!
If you have any questions or suggestions just email me at Tina (at) Paleomazing.com.