I am all about a good smoothie, especially one that is packed with antioxidants and micro-nutrients. I like to eat, bite, crunch and feel food in my mouth; so basically I love to eat. I do eat a lot despite being pretty tiny. A good smoothie gives my body a rest and does not make my body "work". I feel giving our body a rest is very important and there are many ways to do this. This paleo high antioxidant smoothie is the one I can stand behind for this purpose.
We are always working out, working and sitting at the job, driving, concerned about food, eating what is good, and splurging now and then, etc. Each and every one of those activities involves the use of our own body. How about letting the body have an "ahhhhhh" moment?! The one product I've found that is a superfood and an antioxidant combo is from Philosophie. I use her product (Sophie – AKA the owner of Philosophie) because of her commitment to quality and purity. She uses a hemp-based protein that is in her Cacao Magic and it is just perfect. I get no bind-up of too much protein in my tummy or too much cacao, etc. Really it is the right balance in each scoop:
organic cacao powder
organic cacao nibs
organic reishi
organic mesquite
organic maca
organic chia seeds
organic hemp protein
organic vanilla
This superfood and protein blend packs 10x the antioxidants of green tea, more magnesium than 3 cups of broccoli and more calcium than a glass of milk!
Feel good and do enjoy this nourishing paleo recipe. Also, be sure to enter my latest paleomazing giveaway for some new and exciting products that I'll be giving away soon!
Print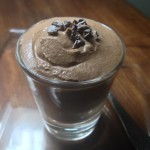 Paleo High Antioxidant Smoothie
---
Description
This paleo high antioxidant smoothie is one I can stand behind. My body loves this! You can add anything and everything to this recipe and the taste of the cacao magic will stand out and help you thrive. Add spinach, kale, avocado, berries, oils, fruits, etc. I hope you enjoy it!
---
1

large frozen banana

1

–

2

Medjool dates

1

–

1 1/2

cups ice

2

–

3

large scoops Cacao Magic by Philosophie
Almond Milk or Filtered water to desired thickness/consistency
Optional: 2 tablespoons Gogi berries or cacao nibs – to add into the smoothie or on top for garnish
---
Instructions
Place all ingredients (except the milk or water) into your blender.
Slowly add milk or water until you're reached your desired consistency.
Blend together on high speed.
Pour into glasses.
Enjoy!
---
If you have any questions or suggestions just email me at Tina (at) Paleomazing.com.